Welcome New Major Partner Grand Nissan
Posted by South Adelaide Football Club on 2 December 2015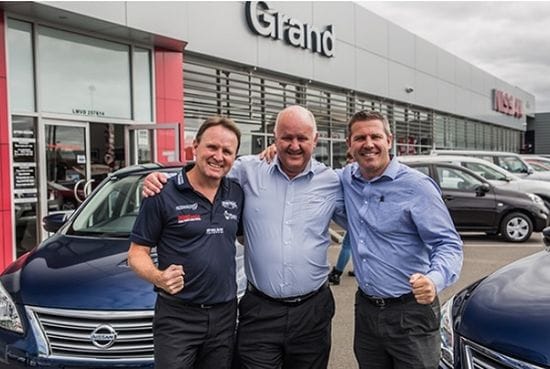 South Adelaide Football Club is delighted to welcome Grand Nissan as a joint major partner under a two-year deal, connecting one of the Southern suburbs' most successful businesses and prominent sporting organisations.
The partnership will see Grand Nissan's brand appear on the back of South Adelaide's home and away guernseys for at least the next two seasons.
CEO of the Panthers, Wayne Peters said the club was excited to partner with a locally-based business and strengthen community ties for both organisations.
"Grand Nissan is an established local business with a long history of dedicated service to the Southern community," said Mr Peters
"We are extremely pleased that Grand Nissan has chosen to partner with our Club.
"Together with the exciting progress of our junior and senior football programs, we look forward to working closely with Grand Nissan to expand our community initiatives."
Grand Nissan Dealership Manager, Vince Petraccaro revealed Grand Nissan, who are based at Morphett Vale, are excited to be pairing with such a prominent organisation of the Southern region.
"We chose to partner with South Adelaide Football Club first of all because it's local," explained Mr Petraccaro.
"The Panthers are the biggest sporting organisation in the South and we are confident our partnership will help to grow the Grand Nissan brand."
For Mr Petraccaro it was also important for Grand Nissan to align themselves with a club who share values similar to their own "Family Owned. Family Driven." motto.
"We are excited to partner with an organisation whose vision is very similar to our own and we strongly believe this new partnership will be beneficial to both businesses," said Mr Petraccaro.
Mr Peters agreed Grand Nissan's community oriented principles aligned well with South Adelaide's brand values of "Visionary Can-Do United for Club and Community".
"The synergy between our organisations will be a vital component of our future success," said Mr Peters.
Author:
South Adelaide Football Club
SANFL Ladder