Brianna Wedding Player Profile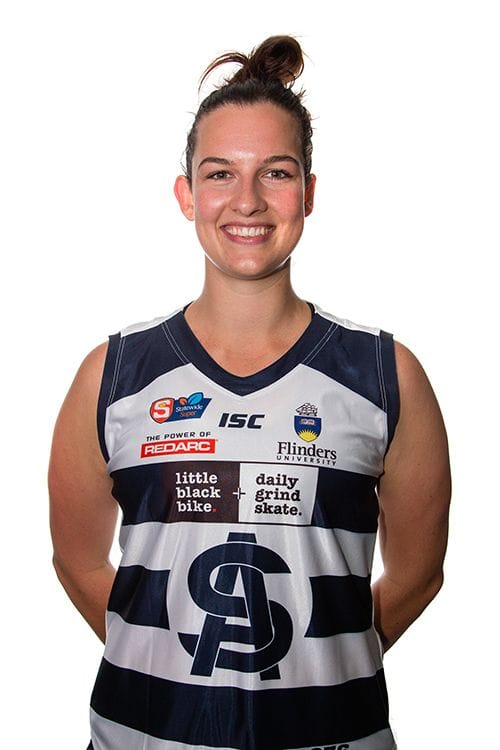 | | | | | |
| --- | --- | --- | --- | --- |
| Number | Height | DOB | Career Games | Career Goals |
| 27 | 183 cm | 10/10/1994 | 4 | 0 |
"Powerfull Mid / Forward who is new to the game, developeing very quickly due to her elite training standards"
Brianna is proudly sponsored by Kingstonian Andrew English
Player Profile
Nickname
Weds, Wally, Breeza
Recruited from:
Kenilworth Football Club
What do you do outside of football?
Work in Aurecon (Design and Engineering Company), spending time at family farm or beach, SUP'ing (or really all things outdoors!)
Favourite SANFL footy memory
Winning 2019 Premiership
Favourite SANFL player
Loz (Captain) - she's balanced, keeps things honest and consistently works hard. A wonderful leader of all ages and important face for the game of football in SANFLW (whether she realises it, or not!)
Favourite SANFL ground to play on
Home Turf, duh! (Flinders University Stadium)
Toughest opponent to play on
Any midfielder - they've all got jets in their shoes!
Describe yourself as a footballer in one word
Butterfly (only for those playing along in pre-season! )
Biggest interest outside of football
Working in the Infrastructure Advisory team of a global design and engineering company; Aurecon.
Coach's favourite saying
Be BRAVE!! Rick is consistently encouraging us to take risks on the field, fail fast and learn! It's become a huge part of our culture and I love it!
3 Apps you can't live without
Emails, Calls, Messenger
Worst/Best dressed teammate and why?
Gibbsy - equally the worst AND best dressed in our team owning the post-training socks 'n' sandals combo like it's the 90's.
Which teammate takes the longest to get ready?
Mads Bennett - only because I always find myself fighting her for a spot on Sandys (Team Sponsor: Sandys Mobile Massage) massage table
Which teammate is always last in after a training drill?
Krafty - because she's always caught having a giggle between drills (in the best way!). Between warmup, game simulation or sprinting drills, she'll find the fun
Which teammate is most likely to be caught looking at themselves in the mirror during a weights session?
Hursty - we can never tell if she's looking at the mirror, or if the mirror is looking at her during sessions
If you could be another teammate for a week, who would you be and why?
Czenya - who wouldn't want to run like the wind and be a doctor (skipping that 7+ years of study, of course!)
Which teammate is most likely to win mark of the year?
Kirky - if the last few trainings are anything to go by, there's no doubt her hangers will stick this year. Big 2020 coming for Kirky!
Which teammate is most likely to win goal of the year?
Tiff - purely as a result of how versatile she's been in trainings this year. There's something special brewing there...
Which teammate is most likely to win the SAFCW Best and Fairest?
Indy - stronger than ever in trainings and confidence slowly growing, am seriously excited for her season
Which teammate is most likely to win the SANFLW Best and Fairest?
Tahlia Meyers - as one of the hardest workers on our team; on and off the field, Tahlia's hard work will absolutely pay off in SANFLW 2020
Which teammate is in for a big 2020?
Emmy - she's consistently working hard, her confidence is building and really owning her role in the team (wherever it is!). Have been super proud watching her grow so quickly in the last year - big things coming!