The South Adelaide Tradition
The first mention of football being played in South Australia comes from a newspaper report in 1843 seven years after the colony was first settled.
This was probably some version of Gaelic football, as it was played between Irish colonists on St. Patrick's Day. However, the new version of football, which we have come to know as Australian Rules, began in Melbourne in 1858 and one of its founders, Henry Harrison, visited Adelaide to promote the game in 1860. At a meeting at the Globe Inn (where Myer now stands in Rundle Mall) a local football club was formed, known as the Adelaide Football Club.
This new club arranged matches between its members, who lived north and south of the River Torrens, and with another group known as Collegians, whose members attended one of Adelaide's private colleges. Other clubs were soon formed at Modbury (1862), Port Adelaide (1870), Gawler, Woodville, Kensington, and Willunga.
In 1875/76, a number of players broke away from the old Adelaide Football Club to form what became known as the South Adelaide Football Club.
The team we now know as the Panthers had its beginning at a meeting in the Draper Memorial schoolrooms.
From its very beginning, it wore blue and white, colours which it has carried right through the 140 years of its history to the present day. South Adelaide was credited with the premiership of the newly formed South Australian Football Association in its first year of operation in 1877, and then won another six premierships (and finished runner-up seven times) in the next twenty years.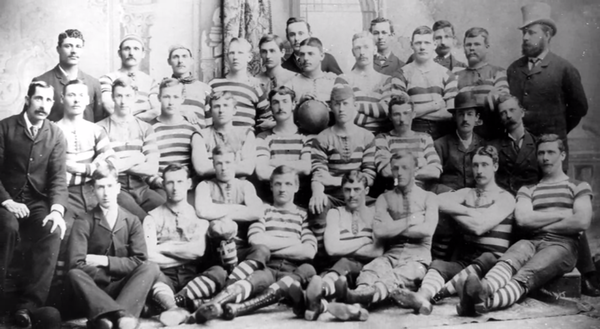 Early Success: South Adelaide won the inaugural South Australian Football Association Premiership in 1877
Characters from those early years included its first secretary, Charles Cameron Kingston (pictured above top-right wearing his trademark top hat).
Kingston played for the club during its first two seasons. He then took on the role as the clubs first secretary, a position he held until 1879. He was also President of the club from 28 consecutive years until 1904, during which time he was also Premier and Attorney-General of South Australia, a member of the committee responsible for drafting the constitution for the Commonwealth of Australia, and Minister of Trade in the very first Federal Government.
A fiery character both on and off the field, he once got arrested in Victoria Square when he challenged another politician to a duel with a set of pistols he had sent to him.
Another stand out during the clubs early years was Dinny Reedman, who was captain of South Australia in both football and cricket, and represented Australia in cricket as well. A ruckman and defender, he captained South Adelaide for 11 years (including five premierships) and is an inaugural member of both the AFL and SANFL Halls of Fame, as well as being captain of The Greatest South Adelaide Team.
In 1899, new boundaries were enforced which meant that South lost many of its best players to rival clubs.
And while in the early twentieth century the premierships may not have been so regular, the players made their presence felt, like Jack Tredrea.
Jack played league football between 1903 and 1922, and interstate football continuously from 1905 to 1920. He captained South Australia, was an amazingly fit and agile player, who missed only two club games throughout the whole of his career, and a great stab pass. A great admirer of Tredrea was legendary Collingwood ruckman Dick Lee, who arranged to have a photo of Jack hung in the Collingwood rooms, where it remained right up until the Second World War.
Frank Barry became the club's first Magarey Medallist, winning the league's highest honour in 1915. Shortly after claiming the medal, Barry headed off to the war claiming he "hoped to do as well at Gallipoli as on the football field, and if VC's were about he would be a trier". Sadly, upon his return from the war he would never return to the football field.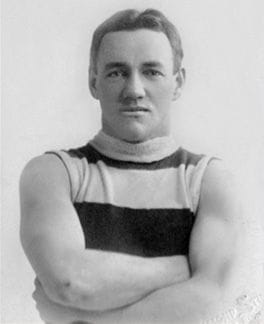 Dan Moriarty (pictured right) was South Australia's greatest player between the wars, and remains the only player to win three consecutive Magarey Medals (1919, 1920 and 1921). Moriarty missed only one game in seven seasons and played 22 consecutive state games. He too was an inaugural member of both the AFL and SANFL Halls of Fame. Today the clubs locker rooms/change rooms are named in his honour.
In the 1930's South won two premierships (1935 and 1938) with a formidable team which included 1935 Magarey Medallist Jack Cockburn, and South Adelaide Hall of Famers Laurie Cahill and Jack and Jim Dawes.
Jim Deane soon became South Adelaide's greatest player following WWII, winning the Magarey Medal in 1953 and 1957, as well as claiming a then record six Knuckey Cups.
Deane was captain and coach of South Adelaide for many years, as well as playing two seasons for Richmond in the VFL. Today the clubs Bistro and Grandstand at Hickinbotham Oval are named in his honour.
In 1964 South won its third premiership for the century under the fierce leadership of captain-coach Neil "Knuckles" Kerley.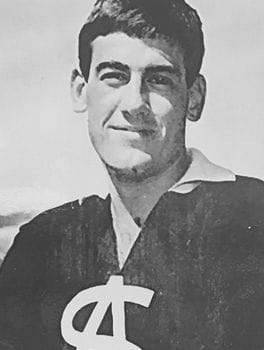 One of the players in that side was Peter Darley (pictured left), who himself became captain-coach of South Adelaide and captain of South Australia. He was one of the state's best ruckmen ever, and won the Knuckey Cup a record seven times during a career that spanned 205 league games and 13 state games between 1962 and 1974. Today the clubs function room at Hickinbotham Oval is named in his honour.
The tall and personable David Kantilla from the Tiwi Islands, was also a member of that 1964 premiership side and is a dual Knuckey Cup winner. "Soapy", as he was affectionately known, was selected in the AFL Indigenous Team of The Century.
Magarey Medallists to wear South's colours since the great Jim Deane include; Mark Naley in 1991, who had a brilliant career as a rover with South Adelaide, South Australia, and is a premiership player with Carlton, Andrew Osborn in 1998 and current dual Medallist Joel Cross (2012 and 2015).
South's last appearance in a grand final was in 1979 when it played in both the reserves and league grand final on the same day.
In 1993 the SAFC moved south to Hickinbotham Oval, playing it's first game at the new oval in 1995, adding a new dimension to the story of one of the most historic and famous sporting clubs in South Australia.
During its early years, the clubs matches were played at the old Jubilee Oval, which was located next to Frome Road in what is now the University of Adelaide. Prior to this, in the 1890's, they had made use of a ground in the South Parklands close to Hutt Street and the old Arab Steed Hotel, where players often used to go for half-time drinks! Other ovals which the club has used for home matches include the Kensington Oval (which was right next to the tram), the Adelaide Oval (which was a real favourite for both players and spectators), and now the new oval at Noarlunga.
The SAFC provides a focus for football in the Fleurieu area. Its recruiting "zone" spans from the metropolitan suburbs of Happy Valley and Reynella, down the southern coast through McLaren Vale and Victor Harbor and also includes Kangaroo Island.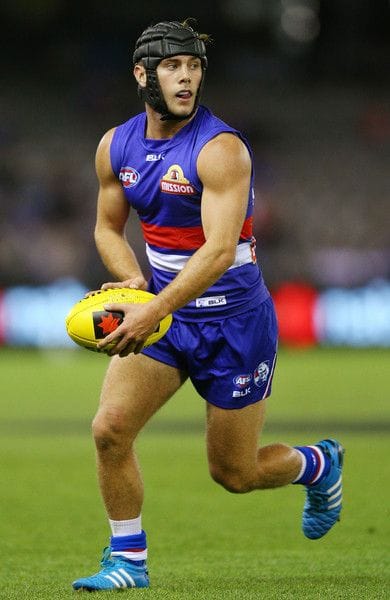 Many former players recruited from within this zone have gone on to become part of the AFL national competition, including; AFL premiership players Mark Bickley, Nigel Smart, Simon Goodwin and Clay Sampson (Adelaide) and Brendon Lade and Dean Brogan (Port Adelaide); as well as former players Michael Doughty (Adelaide), Jason Torney (Richmond and Adelaide) Matthew Rogers (Richmond), Matthew Clarke (Richmond, Brisbane, Adelaide and St Kilda), Ryan Fitzgerald (Sydney and Adelaide), Stephen Doyle (Sydney), Luke Darcy (Western Bulldogs), Mark West (Footscray/Western Bulldogs), Alwyn Davey (Essendon). Meanwhile, current AFL stars Ryan Griffen (Western Bulldogs/Greater Western Sydney), Caleb Daniel (Western Bulldogs - pictured right) and Keegan Brooksby (Gold Coast) also began their careers with South Adelaide.
The South senior team has contested the SANFL finals in three seasons during the past decade, reaching the preliminary final in 2014 under coach Brad Gotch. Reflecting the talent in that team, the aforementioned Brooksby and Daniel, as well as Tom Fields were drafted to AFL Clubs following that season.
The league team narrowly missed the finals in 2015 after injuries to key players late in the minor round. However, the year was not without success, as Joel Cross can now take his place amongst South's greatest players after winning his second Magarey medal.
Only two other South players, Jim Deane and Dan Moriarty have won the medal more than once.
2014 saw the introduction of the Adelaide Crows and Port Adelaide Power teams into the SANFL bringing back a ten-team senior competition. This has added a new dimension and challenges to the competition.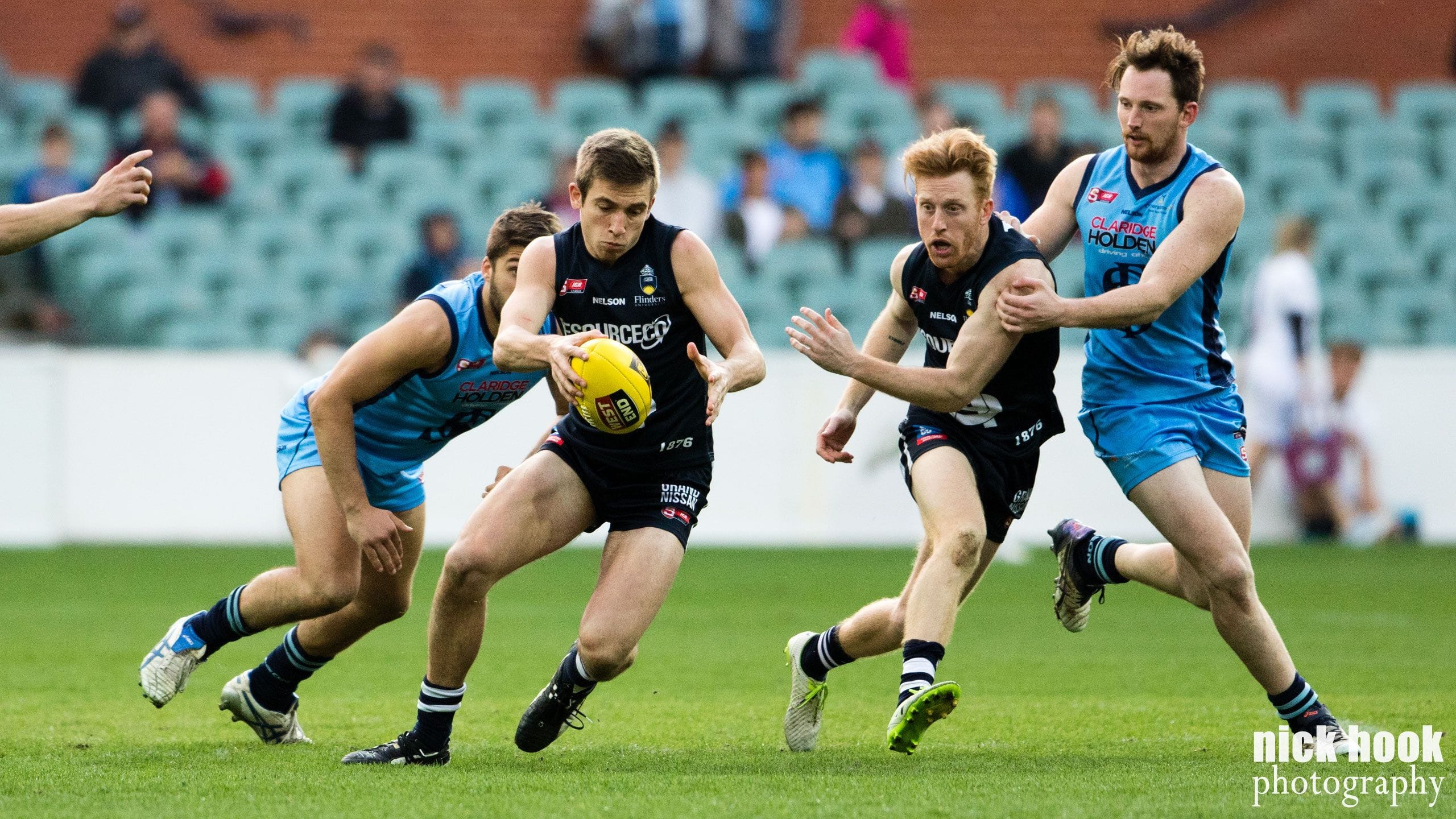 Champions: Joel Cross (left) and Nick Liddle (right) are stars of the modern era at South Adelaide.
Meanwhile, alongside Cross, fellow modern day stars such as Nick Liddle (a three-time Knuckey Cup winner), captain Brad Crabb and Brett Eddy (2016 Ken Farmer Medallist) continue to blaze the path as champions of South Adelaide.
2016, marked the 140-year anniversary of the South Adelaide Football Club, an event which was celebrated at the clubs "Blue and White Ball", through a commemorative guernsey displaying the names of over 1700 players that have played senior football since the clubs inception and various other activities.
The South Adelaide tradition has spanned most of South Australia's history. A new chapter is being written at Hickinbotham Oval, and the future looks bright.
Originally written by former South Adelaide Historian John Althorp in 2005 for the New Players Information Kit, updated by the South Adelaide Football Club Heritage Committee in 2016.