Czenya Cavouras Player Profile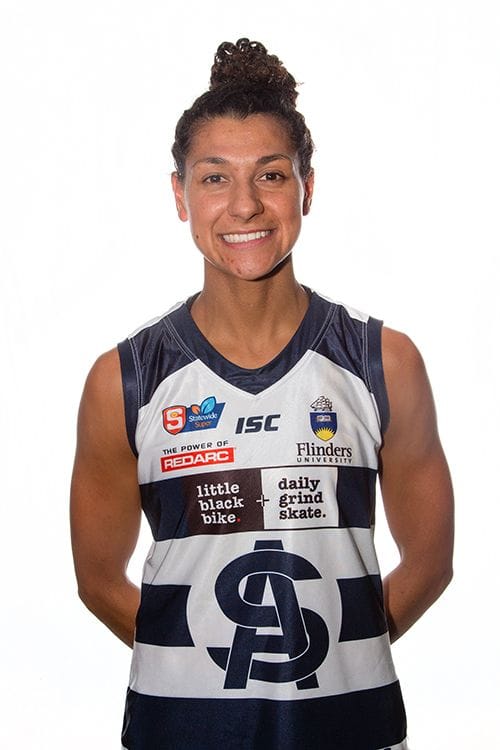 | | | | | |
| --- | --- | --- | --- | --- |
| Number | Height | DOB | Career Games | Career Goals |
| 11 | 172 cm | 27/1/1993 | 17 | 0 |
"Powerful mid with lightning speed and a ferocious appetite to tackle"
Czenya is proudly sponsored by Margaret Nyland AM
Nickname
Zen, Z, Cav.
Recruited from:
Flagstaff Hill/Christies Beach.
Describe yourself as a player in three words:
Hard-working, fast and strong.
What do you do outside of football?
Final year medical student.
Growing up who was your favourite footballer/sportsperson?
Cathy Freeman.
What is your proudest sporting achievement?
400m state title, 2 x Camden Classic wins, and the 2018 SANFLW premiership of course!
Three apps you can't live without
Not an app person - give me a book any day!
Who should be banned from choosing what music is played in the rooms and why?
No one plays country so it's not a problem.
If you could be another teammate for a week, who would you be and why?
Cheyenne Hammond - such a classy player, hardly misses a kick and can bounce at pace.
Who has had the biggest influence on your career?
My brothers and my husband - I try to emulate the way they play.
Who is the best/worst dressed at the club?
Each to their own.
Who is your funniest teammate?
Alana Browne for sure - incredibly fun to be around at all times!
If you had to choose one team mate to have the winning shot at goal, who would it be?
Lauren Buchanan
Which teammate is most likely to win Goal of the Year?
Lauren Buchanan or Jess Kirk
Which teammate is most likely to win the Best and Fairest?
Cheyenne Hammond
Which teammate is most likely to win Mark of the Year?
Dani Goddy