Madison Bennett Player Profile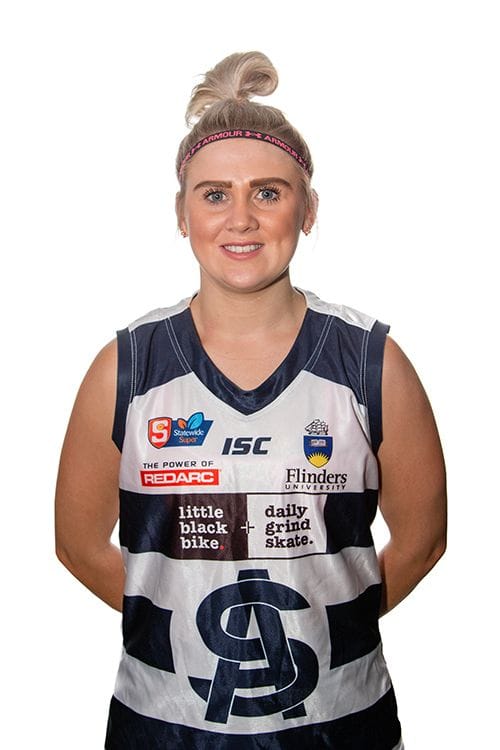 | | | | | |
| --- | --- | --- | --- | --- |
| Number | Height | DOB | Career Games | Career Goals |
| 18 | 152 cm | 6/5/1999 | 10 | 3 |
"Small in stature but huge in effort. This left footer with explosive pace is a tackling machine."
Madison is proudly sponsored by Wayne Ellery
Nickname
Madz.
Recruited from:
Christie's Beach Football Club.
Describe yourself as a player in three words:
Hard working, team orientated, persevering.
What do you do outside of football?
Study, work in hospitality, gym.
Growing up who was your favourite footballer/sportsperson?
Michael Doughty.
What is your proudest sporting achievement?
Player of the tournament state soccer.
Three apps you can't live without
Messenger, Snapchat, Instagram.
Who should be banned from choosing what music is played in the rooms and why?
Emily Brockhurst - to much Disney music!
If you could be another teammate for a week, who would you be and why?
Emily woods, for her knowledge of the game and experience in the back lines to have more versatility and her aggression is outstanding!
Who has had the biggest influence on your career?
Grandpa.
Who is the best/worst dressed at the club?
Alana Browne.
Who is your funniest teammate?
To hard to tell!
If you had to choose one team mate to have the winning shot at goal, who would it be?
Jami Rock Wicked leg.
Which teammate is most likely to win Goal of the Year?
Lauren Buchanan.
Which teammate is most likely to win the Best and Fairest?
To hard to pick.
Which teammate is most likely to win Mark of the Year?
Indy Tahau.