Renee Ullrich Player Profile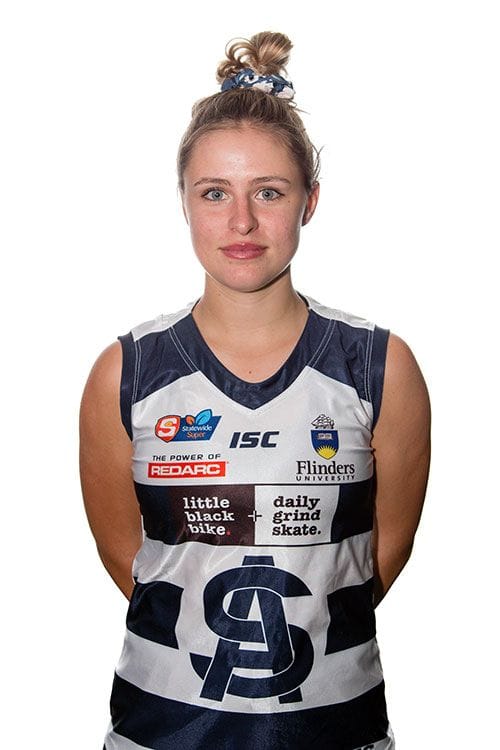 | | | | | |
| --- | --- | --- | --- | --- |
| Number | Height | DOB | Career Games | Career Goals |
| 26 | 160 cm | 31/10/1998 | | |
Player Profile
Nickname
Ren
Recruited from:
Cove Cobras Football Club
What do you do outside of football?
Run a pet and house sitting business
Favourite SANFL footy memory
Winning back to back SFLW premierships for Cove in my first 2 seasons of footy
Favourite SANFL player
Hannah Munyard
Favourite SANFL ground to play on
Flinders University Stadium
Toughest opponent to play on
In SFL it would be Sophia Flanagan, we play a very similar game of footy and she's just a gun
Describe yourself as a footballer in one word
Tough
Biggest interest outside of football
Animal Care
Coach's favourite saying
My 2019 Cove coach would always say "success is leased not owned and rent is due today"
3 Apps you can't live without
Instagram, Tasty and Maps
Worst/Best dressed teammate and why?
Alana Baker always wears the best socks, my favourites are the sausage dogs in Mexican hats
Which teammate takes the longest to get ready?
Probably myself by the time I use the foam roller, put on sunscreen and my boots
Which teammate is always last in after a training drill?
I think we're all pretty switched on when it comes to coming in after a drill!
Which teammate is most likely to be caught looking at themselves in the mirror during a weights session?
Again probably me
If you could be another teammate for a week, who would you be and why?
Tahlia for sure, if I could be as fit and ripped as she is I'd be dreamin
Which teammate is most likely to win mark of the year?
Sheena takes some incredible grabs!
Which teammate is most likely to win goal of the year?
Either Kirk or Bennett
Which teammate is most likely to win the SAFCW Best and Fairest?
During my first season of south so far I would love to see Teah win
Which teammate is most likely to win the SANFLW Best and Fairest?
Tahlia Meyers
Which teammate is in for a big 2020?
Sophia Flanagan