Gotchy's Blog - South Adelaide vs West Adelaide
15 August 2015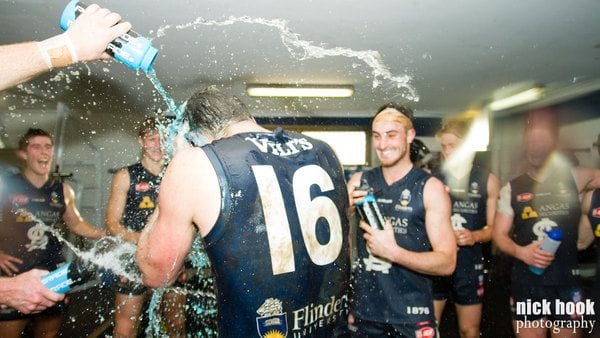 What a great gutsy win that was against West Adelaide! I hope you enjoy the write up below, but my main point for this week is lets get a big crowd up to Alberton to cheer us on! It should prove to be a great game of footy and Finals berth is on the line. Come and cheer your team on! - Gotchy
I'm sure by now you have noticed our growing injury list. Last week was almost comical with how many changes we had to make yet again. Fair dinkum.
Firstly, Matt Rankine and Pat Kerin were forced out of the lineup with slight hamstring strains against Adelaide, but then Tarak Redigolo was a late withdrawal after slipping in the shower and damaging some tendons in his elbow.
It seems the footy injury gods are not on our side this year!
So with a second placed West Adelaide waiting for us on Saturday making three changes in one week was obviously not ideal preparation.
However, as has been the case for us all year when opportunity is taken from one player it is handed to another. It started with having three senior players drafted to the AFL and another retire at the end of last season and has continued through this spate of injuries at the Club. When you are given your chance, stand up and be counted.
We really emphasized that during the lead up to the game and put it on the playing group that the focus needed to remain on giving a strong four quarter performance regardless of who would be coming in and out of the side.
Despite the changes to the team I could sense the boys were quietly confident heading into the game. Last time we played Westies we were quite literally with them until the final kick. I think the boys had a point to prove that we could get the job done this time.
Right before the game the injury bug finally bit somebody else, with Bloods prolific ball winner and captain Chris Schmidt pulling out of the game. Obviously you never hope for players to be unfit to play, but it was nice to be on the opposite side of an injury this time!
Once the first ball was bounced we really hit the ground running and took a handy 10-point lead into the first break. It was nice to see the boys carry that form into the start of the second as well. In fact our first 25 minutes of the second term were fantastic. Unfortunately we conceded two goals in stoppage time, but I guess it was a step forward after allowing three past us at the same point last week.
At halftime we were in a really good place. The boys knew they were playing good football and could have been up by even more if not for some small lapses in concentration.
We came out in the third and really made a statement, kicking 5.2 to 2.0 and opened up a 30-point advantage by the final break. The only sour note for the quarter came when Joe Haines came off second best after a heavy collision with West ruckman Ryan Willits and sprained his AC joint.
Four minutes into the fourth and Willits was again in the thick of things, sliding into Jake Veide and injuring his knee. There was nothing untoward in the collision, but it was frustrating as it left us with just 19 fit players and two more injuries to add to our every growing casualty list.
I was very impressed with how we finished the game off. West kicked eight goals in the final quarter against Sturt last week and we held them to 2.3 even with a depleted interchange.
It was our gutsiest win of the season by far. We played sensible and smart football, relying on our defensive instincts, playing hard and honest contested footy and controlling the stoppages.
I am really proud of the boys and every Panthers supporter out there should be ecstatic with the effort their team put forward with their backs against the wall.
It was an excellent team performance, but like always there were several individual standouts.
Jackson Heagney-Steart equipped himself well in his first League game, Scott Taylor was also solid back in the seniors, while Nic Schwarz had a breakout game playing in midfield with 19 touches and a couple of goals.
Brett Eddy was the standout, kicking five goals against a highly regarded opponent in Tom Keogh.
Adam Gulden (27 touches and a goal) has been showing some good form in recent weeks, while Ben Heaslip (third League game) and Jackson McMahon (second) have really embraced the chances they have been given at senior level.
We still control our own destiny of the final two weeks of the season.
However, we aren't thinking to far ahead of ourselves to jostling for final position on the ladder. We will just aim to win every game we can and see where it lands us.
It all starts this weekend at Alberton Oval. It is no mean feat to head to Port Adelaide and come away with a win, but we are up for the challenge and are looking forward to tackling another quality opponent.
Our last seven weeks have been solid, with five wins and only two losses against the form teams of the competition. We have a strong belief in our game plan and truly believe we can mix it with any team in the competition.
I really hope to see as many Panthers supporters make the trip to Alberton to watch the game. Not only is it a crucial game for our chance at making the Finals, but Joel Cross (100 games) and Brett Eddy (50) will also notch impressive milestones for the Panthers on the day. Not to mention Brett is a real chance for the Ken Farmer Medal! What better spectacle of football could you ask for?!
So get down to the game this weekend. We would love to see a sea of blue and white mixing in with the black and white of the Magpie faithful!