Cheyenne Hammond Player Profile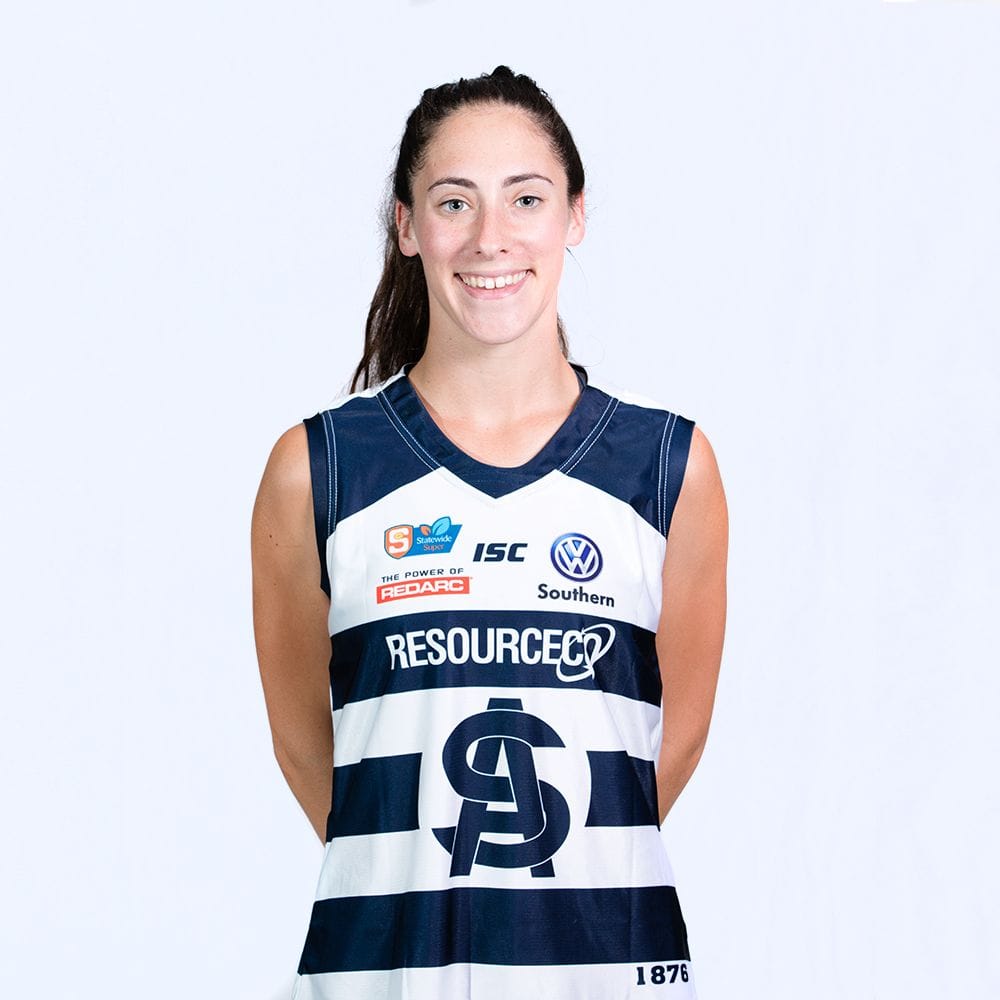 | | | | | |
| --- | --- | --- | --- | --- |
| Number | Height | DOB | Career Games | Career Goals |
| 29 | 170 cm | 29/7/1998 | 14 | 1 |
"A defender who has a great overhead mark. Very quick tackles well and good in a contest."
Emma is proudly sponsored by The Hon. Maraget Nyland AM
Nickname
Hammo.
Recruited from:
Willunga and then trialed for south last year and got selected into the squad.
Describe yourself as a player in three words:
Quick, determined, and agile.
What do you do outside of football?
Work and go to the gym.
Growing up who was your favourite footballer/sportsperson?
I use to play soccer so I thought Leo Messi was amazing when I was younger.
What is your proudest sporting achievement?
Getting best on ground in the SANFL grand final in my first year of football is probably one of my proudest achievements.
Three apps you can't live without
Instagram, Snapchat and Messenger.
Who should be banned from choosing what music is played in the rooms and why?
Probably myself, I think I have a good taste in music but my friends don't think so!
If you could be another teammate for a week, who would you be and why?
I would probably be Czenya because she is a beast at tackling opponents, I'm glad she's on my team!
Who has had the biggest influence on your career?
Krissie Steen has been a big influence in my footy career because she taught me to be the player I am today.
Who is the best/worst dressed at the club?
Best dressed is Maddy Bennett because she loves her pink slippers and is just a very fashionable person in general.
Who is your funniest teammate?
Probably Brownie because when we do gym sessions she is really unco hahah!
If you had to choose one team mate to have the winning shot at goal, who would it be?
Taylor Eastwood, because she has a long and accurate kick.
Which teammate is most likely to win Goal of the Year?
Lauren Buchanan because she whipped out one of the best goals I have ever seen last season.
Which teammate is most likely to win the Best and Fairest?
I have no idea yet!
Which teammate is most likely to win Mark of the Year?
I'm putting my money on any tall people in the team.