Dan Moriarty - 1919, 1920 & 1921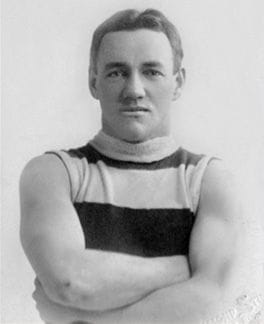 Dan Moriarty is considered to be one of the greatest centre half-backs not only at South Adelaide or in South Australia, but in the history of the sport
Convinced to join South Adelaide Football Club by Panthers legend Frank Barry, Moriarty played four reserves games at the end of the 1915 season, before the league went into recess for three years due to World War I. He played in the Patriotic League in 1917 and 1918.
The SAFL returned from recess in 1919, and Moriarty made his league debut for South Adelaide, immediately becoming one of the league's star players at centre half-back. In each of his first three seasons 1919, 1920 and 1921 Moriarty won the Magarey Medal as the fairest and most brilliant player in the league. He remains the only player to have won the Magarey Medal in three consecutive seasons.
Moriarty was selected in the South Australian team in interstate matches in 1919, and represented the state regularly throughout his career. He won the inaugural South Adelaide Football Club best and fairest in 1923, and was the club captain in 1925.
Moriarty retired from league football at the age of 30, after the 1925 season. His career spanned 97 league games for South Adelaide, and 22 state games (played consecutively) for South Australia between 1919 and 1925.
Moriarty's career has been widely honoured since his retirement and he was inducted into the Sport Australia Hall of Fame (inducted 1986), Australian Football Hall of Fame (inaugural inductee, 1996), South Australian Football Hall of Fame (inaugural inductee, 2002), South Adelaide Football Club Hall of Fame and is a member of South Adelaide Football Club's "Greatest Team Ever".