Alf Skuse - 2011 Inductee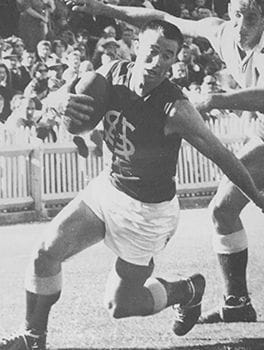 Alf Skuse was a tenacious and talented half forward flanker/rover, who made played 140 games for the Panthers between 1962 and 1970.
A member of the 1964 Premiership side that defeated Port Adelaide by 27 points, Alf played on a half forward flank that day and was one of the best players on the field and instrumental in South beating the Magpies.
A natural footballer, Alf topped the Panthers goal kicking in 1966 with 38 goals and finished his career with and even 100 goals - a total that could had been significantly higher if not for his tendency to spray the occasional shot on goal (in one six match sequence during that 1966 season, for instance he booted 6.25!)
Blessed with blistering speed and widely considered to be the quickest half forward in the SANFL for much of his career, Alf also won the Bay Sheffield in 1964 and was once described by Jeff Pash as "a ready made rover from the beginning, with all the required virtues, including pace".
Alf also played eight times for South Australia, including matches at the 1966 Hobart carnival.