Bill Oliver - 2002 - The "Greatest South Adelaide Team"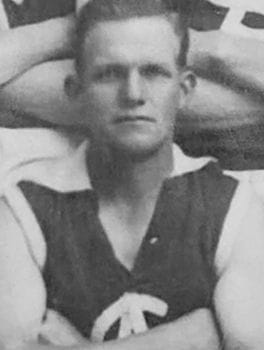 Bill Oliver began his footy with Uraidla at age 16 in 1913, but his career was interrupted in 1914 when the World War broke out and he joined the First AIF at the tender age of 17.
On his return, he began with South Adelaide in 1920, his father bringing him and a team mate, Arnie Caust, to training and matches in his T Model Ford.
Bill quickly cemented his position at full back in the tough 1920's competition, representing the state in 1922 and 1923 along with his team mate and fellow defender Dan Moriarty, and again from 1925 to 1927.
He won the Knuckey Cup in 1925 and 1926, and was club captain in 1926, 1927, and 1929. In 1927 he also coached the side. A tough, rugged and determined full back, he played in 135 consecutive league matches from 1921-1927, and completed his 149 game career with South in 1929. This same devotion to a cause and tenacity was evident in his decision in 1939 to sell his market garden property and enlist again in the army in the Second World War, only to be discharged when it was discovered he was 42 years of age.