Bulla Ryan - 2002 - The "Greatest South Adelaide Team"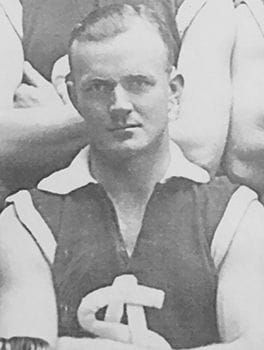 One of five brothers who played league football for South Adelaide over a 17 year period in the early part of the last century, Alf Ryan (or 'Bulla' as he was better known) began with South in 1922 and soon proved himself to be an outstanding centre half forward and full forward, and sometimes even used with telling effect as a rover.
He won the recently instituted Knuckey Cup on two occasions (1924 and 1928), and topped the club's goalkicking from 1924 to 1927, scoring over 50 goals in each of those seasons. All in all, Bulla completed 146 games and 10 years with the club until giving away the game in 1931.
His natural footballing ability, tenacious play and effortless drop kicking for goal soon caught the eye of the state selectors, and he represented the state in the carnival of 1924, and in all subsequent state matches over the following six years.
Away from football, Ryan alse enjoyed a successful career as a cricketer. He began playing Sheffield Shield in 1925 and continued as a state player until 1937. Over the last three years of his cricketing career he was a team mate of Donald Bradman.