Don Pryor - 2002 - The "Greatest South Adelaide Team"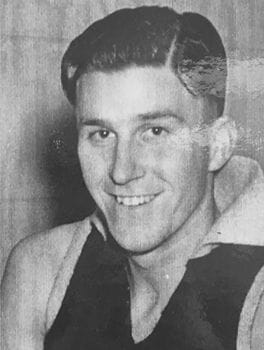 Recruited from Moonta as an 18 year old in 1937, Don was a one of a number of country players who came to South in the 1930's and had such a telling effect in their premierships in that decade.
Described in that first year by Vic Johnson in 'The Mail' as a thrilling high mark and a beautiful long kick, and able to leap over his opponents with ease, Don made his mark as lead ruckman in the 1938 premiership season, named amongst the best players in the Grand Final not just for his ruckwork but for his goal scoring ability as well.
His impact on South Australian football was such that he was targeted by both Carlton and St. Kilda, but he stayed with South and held down the centre half forward position for the remainder of his 157 game career with the Panthers which continued until 1950. He topped the club's goalkicking in 1947, and captained the team in 1947 and 1948.