Frank Tully - 2002 - The "Greatest South Adelaide Team"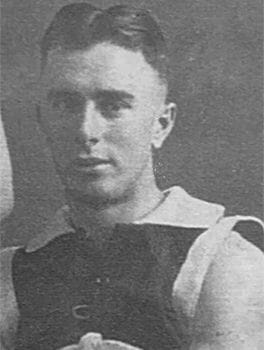 Frank Tully began his football with South Adelaide in 1927, travelling down from Gawler for matches and practices.
A courageous and quick rover, he won the Knuckey Cup on four occasions, and captained the side in 1935 and 1936. His roving was a deciding factor in the 1935 premiership victory over Port Adelaide and according to press reports 'the fast intelligent roving of Tully was a feature of South Adelaide's play. To dive in to gain possession of the ball in the hard bumping crushes on Saturday was no mild test of courage, yet Tully gained possession in this manner on many occasions.'
He played interstate football for 6 years, captaining the state side in 1935 and 1936. Testimony to the courage and grit of the slightly built rover was the fact that, in spite of the tenacious way he played the game, he holds the record for the most consecutive league games ever played, having never missed a match in his 168 game career.