George Mulcahy - 2002 - The "Greatest South Adelaide Team"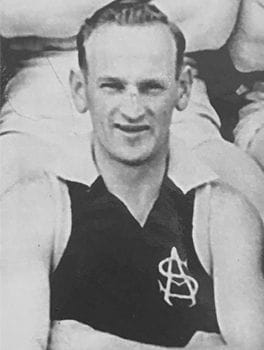 Described by his contemporaries as short and strong and as someone who would not give the resting rovers an inch, and as a brilliant back pocket player at both club and state level, George Mulcahey joined South in 1930 and played for them for the next ten years.
In that time he shut down the opposing Port rovers (including the mercurial Bobby Quinn) in the two South premiership sides of 1935 and 1938, and won the Knuckey Cup as South's best and fairest in 1936.
A carpenter by trade, he was a great team man who liked his game of poker on trips away, and was affectionately regarded by younger players in the 1938 side like Len Lapthorne and Don Pryor as the elder statesman of the team who protected them both on the field, and off the field as well from the villains on the team like Laurie Cahill.