Jack Tredrea - 2002 - The "Greatest South Adelaide Team"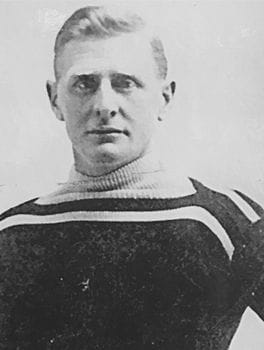 Considered to be one of the best utility players ever seen in South Australia, Jack Tredrea's league career began in 1903 at the age of 19.
Over the next 20 years, in a footy career interrupted by the First World War, Jack became the first player to complete 200 games. During those years, he captained South Adelaide from 1910 to 1915, and coached the side from 1921 to 1923.
A first class exponent of the stab pass, agile, tough, and absolutely fearless in his approach to the game, Jack quickly made an impact in interstate football, which he played from 1905 to 1914, and again in 1919 & 1920, captaining South Australia and playing in every match of the 1908, 1911, and 1914 Carnivals.
Testimony to the admiration and respect in which he was held by interstate compatriots he played against was his friendship with the great 230 game/707 goal Dick Lee of Collingwood that resulted in a photograph of Jack Tredrea being hung for many years in the Collingwood Committee Room. Durable and evidently able to run all day, Jack missed only two interstate and two club games in his entire career.