Jim Dawes - 2011 Inductee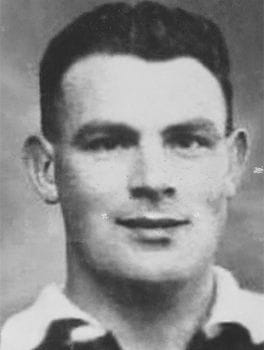 Making his debut in 1934, after traveling to Adelaide from Jamestown, he made a name for himself playing on the half-back line.
A member of the 1935 and 1938 premiership sides he is remembered by team-mate Jack Doyle as a mean player who didn't like giving his opponent a kick. He ran with a long stride, was noted for his marking prowess and was described by another South Adelaide great, Jim Deane, as always bringing the ball down behind his head after taking a mark.
In 1936 Jim represented South Australia on a half-back flank against Western Australia, in the same year he was runner-up to Norwood centreman W.B.McCallum for the Magarey Medal by just two votes. In the same year he tied with George Mulcahy for South Adelaide's highest award, The Knuckey Cup.
Over a 10 year career, spanning from 1934 - 43, Jim played 151 games and kicked two goals for the Panthers and also represented South Australia in 1936.
After retiring, Jim became a field umpire. When asked why he retired from Field Umpiring only after a couple of years, he replied that he discovered that all the friends he had made in ten years of playing could be lost in just ten minutes of being an umpire.
In 1935 Jim's brother Jack joined him at South Adelaide, he won the Knuckey Cup, represented South Australia. Captained both South Adelaide and South Australia. Jack was a founding member of the South Adelaide Football Club Hall of Fame, and was selected in a forward-pocket in the South Adelaide Greatest Team.
A third brother, Wally, played 4 games in the 1939, 1940 seasons.
A fourth brother, William, played for West Adelaide in 1938