John 'Dinny' Reedman - 2002 - The "Greatest South Adelaide Team"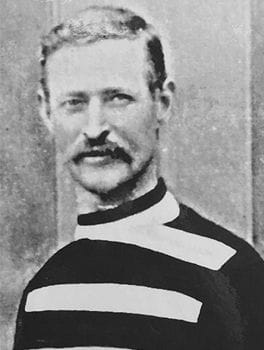 Widely regarded as the most remarkable South Australian sportsman to emerge in the first 70 or 80 years of the state's history, John Cole Reedman captained his state at both football and cricket, played Test Cricket for Australia, and was a champion long distance swimmer.
His football career spanned 23 years with four clubs, during which time he could only recall missing one game.
A ruckman of great ability and toughness and a skilled defender, 'Dinny' Reedman played for South Adelaide from 1889 to 1898, captaining them over those same 10 years to five premierships. He was forced to leave South Adelaide under the Electorate System which came into effect in 1899, and went on to captain North Adelaide for 5 years to 2 premierships, and later coached West Adelaide from bottom to top and to Champions of Australia.
Widely respected by his contemporaries for his leadership abilities, Dinny is credited with introducing the concept of the loose man which has become so much a part of today's game.
He was also one of the original inductees into the AFL Hall of Fame in 1996.