Laurie Cahill - 2002 - The "Greatest South Adelaide Team"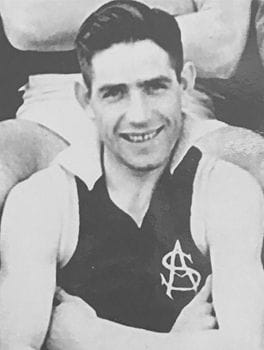 Judged by many of his contemporaries and commentators as the best wingman they had ever seen, Laurie Cahill was known particularly for his powerful and well directed kicking into attack, and a blistering turn of speed (he won the Centenary Bay Sheffield in 1936).
Laurie's 174 game career with South Adelaide began in 1933. He played in the 1935 premiership side, and was best on ground in the 1938 grand final. Meanwhile, he was also a regular state player from 1936 to 1939.
A real character around the club as well as on the field, one of Laurie's favourite on-field tricks would be to tap the ball on instead of marking it, as he knew that with his pace and dash he could be where the ball landed, and no one could catch him.
Laurie won the Knuckey Cup in 1938 and 1939, and his playing career finished in 1947; in that same year he coached the club (and the Greatest Team centreman Jim Deane) as he did again in 1948 and 1957.