Len Lapthorne - 2002 - The "Greatest South Adelaide Team"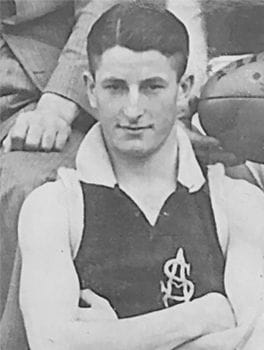 A true blue Panther, Len's father, grandfather and son also played for South Adelaide. Recruited from the Fullarton Football Club in 1937, Len could remember getting only three kicks in his first match against West Torrens and it was only the fact that they were goals, he used to say, that kept him in the team!
However, he went on to score a further 360 goals in 208 matches as a rover for South, in a career that extended to 1952, and to play in the carnival side of 1947.
He was a courageous, pacy rover who was hard at the ball, reflected in a piece of Vic Johnson's reporting of the 1938 Grand Final: 'while a trainer replaced a lace in his boot, Lapthorne went into the fray and goaled with a snapshot from his stockinged left foot.'
Like many others in the 1940's, Len's football career was interrupted by the Second World War when he served as a Lt. Commander in the R.A.N.R. On his return to civilian life, he resumed with South and played until 1952, topping the club's goalkicking list in 1946,1948, 1950 and 1951 and serving as captain in 1949 and 1950.