Mark Coombe - 2002 - The "Greatest South Adelaide Team"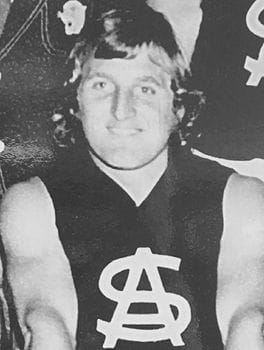 Mark Coombe won the Knuckey Cup as an 18 year old in just his second year of League football for South Adelaide, having finished as runner-up for the award in his debut season with the League team.
He had had an outstanding record as a junior footballer. A graduate from the local Saturday morning Association and Forbes Primary School (which has given us the likes of Craig Cock, John Reid, Peter Jones and the Foster brothers), Mark had represented the state at junior level, and like Lindsay Backman had won the McCallum Medal for Best and Fairest in the Colts competition.
Playing most of his 119 league matches across the centre, Mark went on to represent the state in 1972, and to demonstrate to all those who saw him play the skills of a true double sided footballer, and an unerring ability to read the play. That, and his absolute dedication to the game, made the shoulder injury that finished his career in 1975 at the age of 24 all the more devastating.