Peter Darley - 2002 - The "Greatest South Adelaide Team"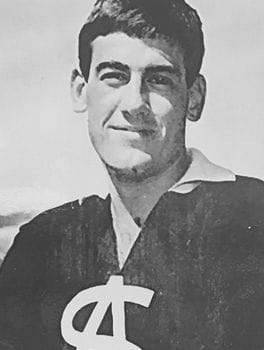 Peter began his league career with South Adelaide in 1962 while still a schoolboy at Prince Alfred College.
One of South Australia's greatest footballers, he was an integral part of the 1964 premiership side. His dependable marking, strong bodywork, and endless stamina were a feature in that game and throughout his career.
In spite of serious cartilage problems in the following year he came back to complete 206 league games and 13 state games before he retired in 1974.
He was captain-coach of South Adelaide from 1967 to 1969, and captain again in 1971; he also went on to top the club's goalkicking in 1974.
Peter was South Australian captain in 1968 and 1970 and he won All-Australian selection in 1969. Runner up for the 1964 Magarey Medal, he tied with Barrie Robran in 1968, but was ineligible because he had received a one match suspension for telling an umpire what we all knew about him in any case.
Peter's services were sought by Fitzroy, Hawthorn, Geelong and Richmond, but his winning of the Knuckey Cup a record seven times typified his intense loyalty to South Adelaide, which has been reflected in his decision to donate those trophies back to his club.