Ray Linke - 2002 - The "Greatest South Adelaide Team"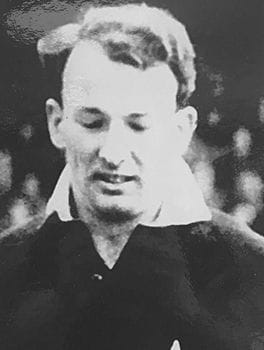 Recruited from the Nuriootpa Rovers in 1947, Ray at 6'0" and 13 stone soon established himself as a dashing half back flanker in South sides where the half backs got a lot of work.
His pace was quickly noticed by Laurie Cahill, his first coach at South, who encouraged him to take up professional running and he narrowly missed winning the Bay Sheffield.
His ability in restricting opponents (playing across the half back line or at full back) so impressed state selectors that he was selected in a number of state sides, including the 1952 team which beat Victoria.
Press reports from those years stress his marking, pace, rugged ground play and accurate kicking as his strengths.
He won the Knuckey Cup on three occasions in 1950, 1952, and 1954, and was runner up to Len Fitzgerald in the 1954 Magarey count.