10 Panthers Junior Girls Selected to SA U18 Girls Academy
Posted by South Adelaide Football Club on 7 December 2017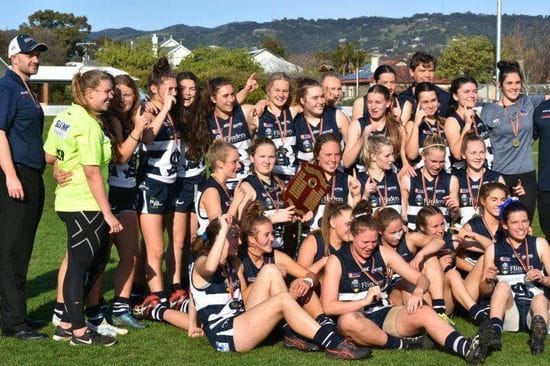 South Adelaide's flourishing junior girls program has contributed 10 players to South Australia's U18 Girls Academy side, which has begun preparations for next year's AFL National Championships.
Representing the Panthers in the side are Bronwen Bosley, Hannah Munyard, Heidi Smith, Jaslynne Smith, Layla Fitzgibbons, Mykayla Walker, Nikki Gore (who also holds an AFL Academy scholarship), Amy Beaumont, Madison Bennett and Montana McKinnon.
Seven of these talented girls played in South's successful premiership defence against Sturt earlier in the year, while nine are currently training with the Panthers senior women's team.
The SA U18 team will again be coached by highly-regarded mentor Bill Economou, with his side to play two matches against the Northern Territory in Darwin in late May next year.
The best players from these matches will then come together to form the Central Allies, who will compete in the U18 AFL Women's National Championships on the Gold Coast in July.
Panthers in the SA U18 Girls Academy
Bronwen Bosley - 167.5cm
Hannah Munyard - 162cm
Heidi Smith - 166cm
Jaslynne Smith - 168.5cm
Layla Fitzgibbons - 167cm
Mykayla Walker - 173cm
Nikki Gore - 164cm
Amy Beaumont - 176cm
Madison Bennett - 150cm
Montana McKinnon - 183cm
Author:
South Adelaide Football Club