2021 Senior Women's Coaching Staff
1 February 2021
The Panthers lock in 2021 Senior Women's Coaching Group.
There are many familiar faces in the 2021 Senior Women's Coaching group.
However, there is one big addition, former Panther and Lion Andrew Brockhurst who returns to South Adelaide in a new role.
Brockhurst replaced Rick Watts, who took over two years ago.
Watts guided the side to a Premiership in 2019 and a third consecutive Grand Final appearance in 2020.
However, Watts will still be involved in the program as a development coach and a bench coach on game days.
"We're extremely lucky to have Rick as our senior development coach." said Senior Women's Coach Andrew Brockhurst.
"He will be assisting with developing our younger players and setting pathways for girls to follow their AFLW dreams along with providing coaching mentorship to myself"
McLaren native Sally Fuller has also joined as a forward line assistant, who will provide some key insights having played for the Eagles in their 2020 GSFLW Premiership.
Senior Women's Coach Andrew Brockhurst talked about how exciting it is to welcome Fuller into the program and how her experiences in the GSFLW will be important.
"Sally is a star full forward in the GSFLW and will help assist with the development of our young forwards."
"Sally has an amazing relationship with our girls already and comes to us with a solid coaching back ground in both Netball and Football."
Returning for a fourth season is Ben Colman, Ryan Skouborg, Brad Read and Josh Read.
Premiership player Stacey Huddleston will also make a return along with strength and conditioning coach Trent Larwood from Kinetic Balance Physiotherapy.
"I'm really lucky to have the support around me of some top quality coaches and people" said Senior Women's Coach Andrew Brockhurst.
"I'm looking forward to seeing Stacey continue her amazing development as our backline coach, along with Ryan who again takes control of our forward line in 2021, and with an injection of youth this year he is excited by the possibilities of the forward line".
"We're also really happy that Ben Colman will remain as our midfield coach and also step up as the senior assistant. Ben has a fantastic understanding of the SANFLW competition."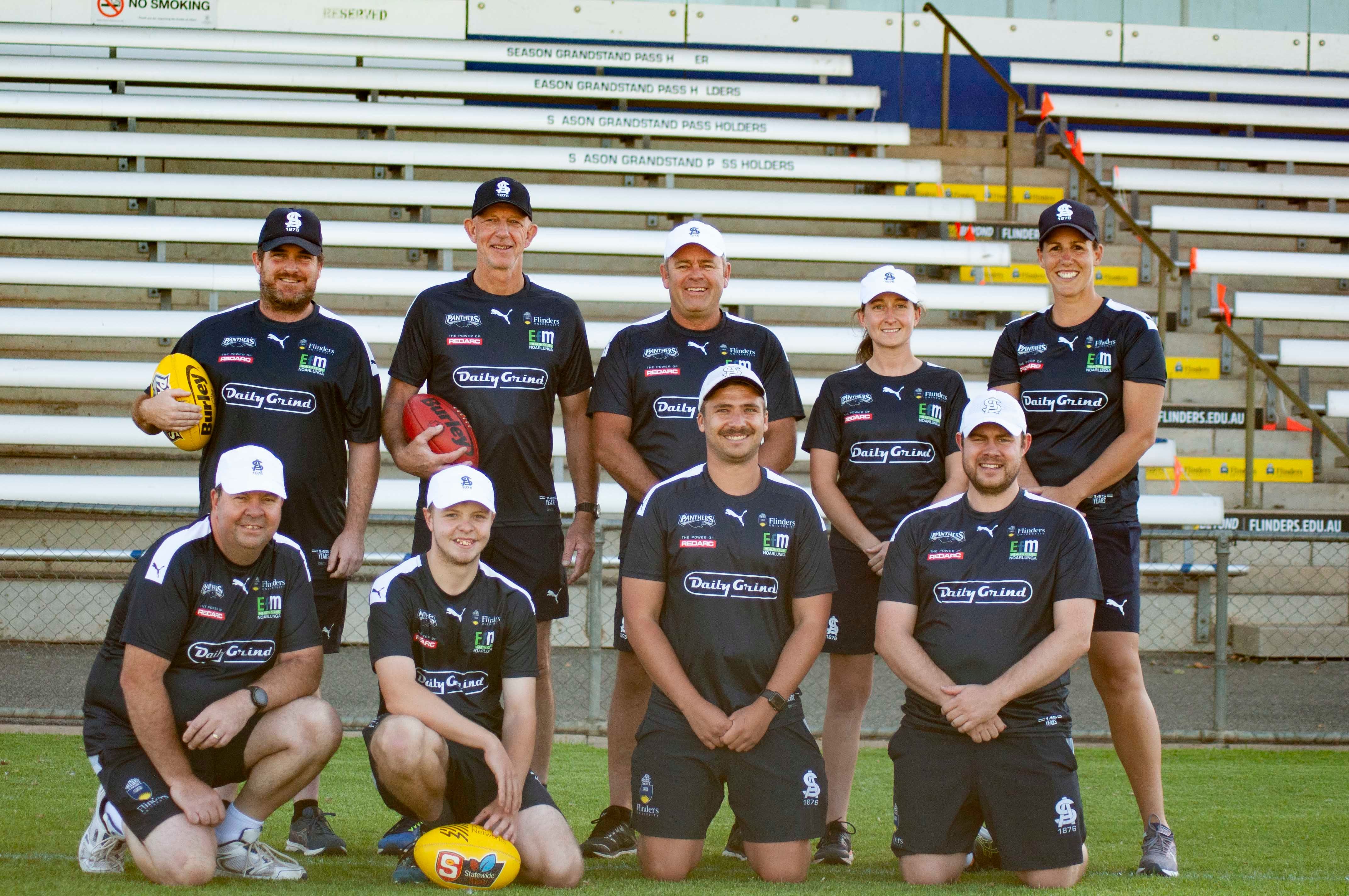 2021 Senior Women's Coaches: (top row) Ryan Skouborg, Andrew Brockhurst, Ben Coleman, Stacey Huddleston, Sally Fuller (bottom row), Brad Read, Josh Read, Trent Larwood, Rick Watts.
2021 Coaching Panel
Andrew Brockhurst Senior Women's Coach
Ben Coleman Senior Assistant & Midfield Coach
Ryan Skouborg Forwardline Coach
Stacey Huddleston Backline Coach
Sally Fuller Forwardline Assistant Coach
Rick Watts Development & Bench Coach
Trent Larwood Strength and Conditioning Coach
Brad Read Boundary Line Coaches Advisor & Rotations Manager
Josh Read Boundary Assistant and Positions Manager