Draper and Whimpress to Test at State Combine
Posted by South Adelaide Football Club on 3 August 2016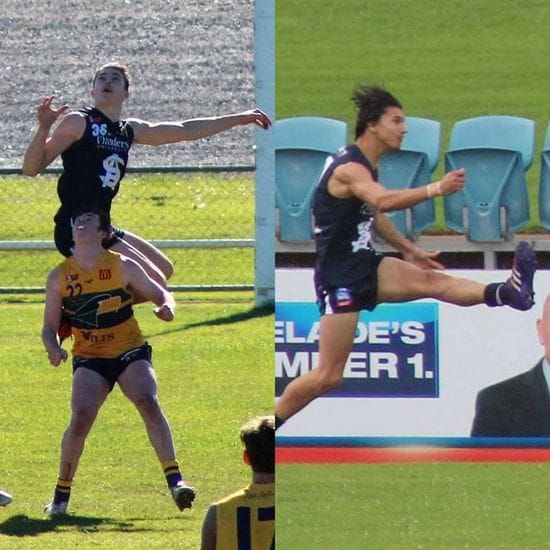 Panthers juniors Sam Draper (above left) and Dylan Whimpress (above right) have been invited to the AFL State Combine to be held on October 15.
Players invited to the State Combine are tested in the same manner as those at the AFL Combine, undergoing a medical screening before having their physical capabilities recorded and scrutinised by AFL scouts.
To receive an invite to an AFL State Combine, players must receive at least two expressions of interest from AFL clubs.
Whimpress, a 17-year-old defender has impressed with the Panthers Under-18s this season, having earned selection to South Australia's Under-18 State program.
Meanwhile, Draper, also 17 and weighing in at an impressive 202cm and 100kg, has also put in some eye catching performances this season. Most notably, his Round 18 performance in the Panthers win over Sturt, which saw him earn a nomination for the Macca's Cup MVP.
SA AFL STATE COMBINE
(Name, Age, Height, Weight, SANFL Club, Local Club)
Dylan Whimpress, 17, 188cm, 73kg, South Adelaide, Freeling FC
Sam Draper, 17, 202cm, 100kg, South Adelaide, Reynella FC
Willie Rioli, 21, 175cm, 74kg, Glenelg, Tiwi Bombers
Andre Parrella, 18, 204cm, 100kg, Sturt, Unley High School
Jake Pitman, 18, 175cm, 78kg, Norwood, Golden Grove FC
Peter Ladhams, 18, 204cm, 86kg, Norwood, Modbury FC
Jackson Lee, 17, 189cm, 75kg, Eagles, BSR FC
Mitch Carter, 18, 196cm, 92kg, Norwood, Modbury FC
Jordon Sweet, 18, 203cm, 104kg, North Adelaide, Tea Tree Gully FC
Lewis Young, 17, 197cm, 92kg, Sturt, Mitcham FC
Tye Bedford, 18, 185cm, 78kg, Sturt, Unley FC
Steven Slimming, 18, 182cm, 73kg, Sturt, Unley FC
Lachlan Cameron, 18, 192cm, 89kg, West Adelaide, Mitcham FC
Liam Mackie, 17, 186cm, 73kg, Glenelg, Plympton FC
Brayden Kirk, 18, 182cm, 70kg, North Adelaide, Crystal Brook FC
Connor Noonan, 18, 182cm, 71kg, West Adelaide, Plympton FC
Toby Pink, 17, 195cm, 88kg, Glenelg, Tantanoola FC
Tom Charlton, 18, 192cm, 80kg, Norwood, Marble Range FC

Author:
South Adelaide Football Club