Eight Panthers Named in SA Under-18 Squad
Posted by South Adelaide Football Club on 2 May 2018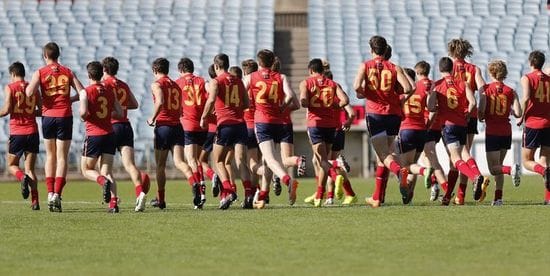 Eight young Panthers will have the chance to represent South Australia after being named in the McDonald's SA Under-18 training squad.
Former South Adelaide Talent Manager and now SA U18 Coach Tony Bamford has revealed a 52-player squad that will vie for final selection over the coming weeks.
Included in the squad are Panthers juniors Tate Coleman, Darnell Tucker, Hayden Sampson, Job Colwell, Tom Sparrow, Reece Milsom and Daniel Sladojevic, while Robert Irra, who made his SANFL Macca's League debut earlier this season, is also eligible for selection.
The squad will be reduced to between 30 to 35 players following an internal trial match, which will be played on Sunday, May 13 at Thebarton Oval.
Speaking to SANFL Radio (full interview below), Bamford said the squad named is fluid and further players can be added or removed based on injury and form.
In fact, three further South juniors were unfortunate to miss selection through injury in Sam Whitbread (collarbone), Luke Bogle (wrist) and Eamon Wilkinson (knee).
Whitbread and Bogle are still an outside chance at earning selection once they recover, while Wilkinson is out of action for the remainder of the season.
SA U18s Coach Tony Bamford speaks about his initial training squad

The final list of 30 to 35 will form the basis of the McDonald's SA Under-18 side which will play in four AFL National Championships matches throughout June and July.
The Croweaters will open their campaign against WA at Alberton Oval on Sunday June 3 before getting a priceless chance to play at Adelaide Oval on Sunday June 17 against Victoria Country.
Matches against the Allies in Geelong on Friday June 29 and Victoria Metro at Etihad Stadium on Wednesday July 4 will conclude the campaign.
Crows defender Brodie Smith will be one of the team's assistant coaches guiding the defenders while Sturt premiership player Ben Nelson and former Glenelg wingman Ben Kane will also be on the coaching panel with experienced pair Peter Fitzgerald and Chris Smelt.
South Adelaide's State Representatives
| | | | |
| --- | --- | --- | --- |
| Name | Height | Weight | Junior Club |
| Tate Coleman | 179.0 | 69.8 | Happy Valley/SFL |
| Darnell Tucker | 172.0 | 69.2 | Happy Valley/SFL |
| Hayden Sampson | 176.5 | 67.0 | Myponga/Sellicks/GSFL |
| Job Colwell | 181.5 | 79.9 | Willunga/GSFL |
| Tom Sparrow | 182.0 | 80.9 | Bridgewater/Callington/HFL |
| Reece Milsom | 186.0 | 71.5 | Flagstaff Hill/SFL |
| Robert Irra | 173.5 | 76.1 | OSB/Lonsdale |
| Daniel Sladojevic | 191.0 | 84.8 | PHOS Camden |
Author:
South Adelaide Football Club