Flashback Friday: High Stakes Win For South in '79
Posted by South Adelaide Football Club on 22 July 2016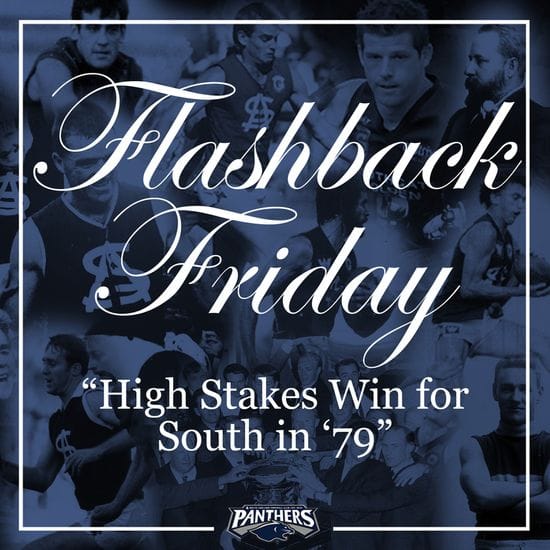 South Adelaide vs Central District
Preliminary Final - 1979 - Football Park
| | | | | | |
| --- | --- | --- | --- | --- | --- |
| South Adelaide | 5.1 | 9.9 | 15.10 | 19.11 | 125 |
| Central District | 3.5 | 6.7 | 9.11 | 16.16 | 112 |
Leading up to September and the start of finals football, the Round 17 clash between South and Centrals is a high stakes affair with positions in the top five still up for grabs.
Before we host the Bulldogs at Hickinbotham this Saturday, let's take a look back at another important matchup between the two clubs with Finals implications.
Travel back with us to 1979 Preliminary Final!
South Adelaide had finished the season in third place with a 14-8 record, behind the exciting play of Panthers stars such as Geoff Baynes, Wayne Slattery, Andy Bennett, Eddie Fry, Shane Butler, John Schneebichler and the Brooksby twins Phil and Graham.
After beating out Norwood in the first Semi-Final, the equation was simple. Beat the Bulldogs and the Panthers would be through to their first Grand Final since 1964.
Centrals entered the contest as heavy favourites, having finished the season as Minor Premiers, led by the outstanding play of 1979 Magarey Medallist, John Duckworth.
However, South Adelaide knew they had what it took to take down the boys from Elizabeth, having claimed the season series 2-1, including a 20-point victory in the final round of the season.
Meanwhile, despite having a great regular season, the Bulldogs were unable to capitalise during the Finals and lost their Semi-Final matchup against the Magpies. They also found themselves up against a South Adelaide outfit carrying a great deal of momentum coming off their win against Norwood in the first Semi.
The match got off to a nervous start with several fumbles and inaccurate passes, and Centrals kicking the first major of the day.
After going back and forth for several high-paced minutes the Panthers were able to get on the score board with a runaway goal from Slattery in his 75th game for the club.
As you will see from the footage below the game was played at a very high intensity. Typifying the desperation of two closely matched teams that knew a loss would mean the end of their season.
At the 10:10 mark you will see one of our club centurions, Bennett take a flying grab and kick his first goal of the game to put his side up 25-8. However, Centrals were able to fight to only be down by eight points at quarter time.
Despite the fierce competition, South were able to hold their own and led the way at every break.
The Bulldogs threw everything at us in the fourth, kicking seven goals to four, but they were still unable to reel in the Panthers.
The rest is history and we claimed a 13-point win and a spot in the Grand Final against Port Adelaide.
Check out the gameplay from the first quarter in our win in '79
Make sure you get out to Hickinbotham Oval this week for our Round 17 clash with the Bulldogs as we fight to claim our position for September.
Fight on Forever!
Author:
South Adelaide Football Club