Flashback Friday: Nullifying North in Noarlunga
Posted by South Adelaide Football Club on 12 August 2016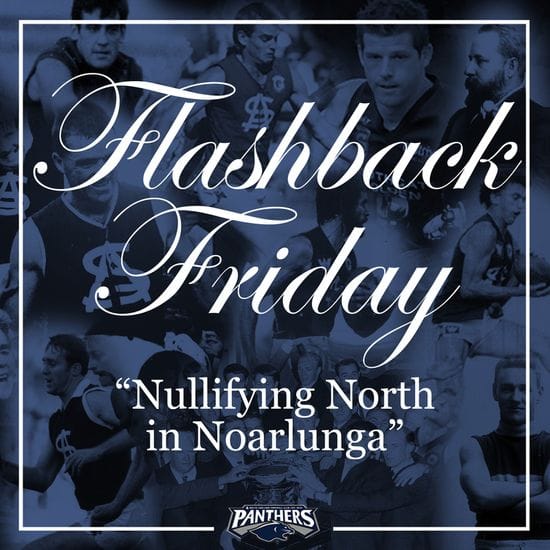 South Adelaide vs North Adelaide
Round 13 - 2015 - Hickinbotham Oval
| | | | | | |
| --- | --- | --- | --- | --- | --- |
| South Adelaide | 3.2 | 5.2 | 9.5 | 13.8 | 86 |
| North Adelaide | 1.2 | 2.5 | 2.8 | 2.9 | 21 |
Ahead of our Round 20 clash with the Roosters this Saturday we are going to take a quick look back at a small piece of history between the Panthers and Roosters.
However, unlike recent weeks, we don't have to go back very far to find a bit of unique history!
Let's go back to just Round 13 last year, with the Panthers came up against a plucky Roosters side at Hickinbotham Oval.
On paper it seemed a regulation minor round clash.
However, by the time the final siren sounded, the Panthers had written a new record against the Roosters.
North Adelaide's final score of 2.9 21 was their lowest ever mark against South Adelaide and the lowest ever score from a visiting side at Hickinbotham Oval.
Sporting striking Indigenous Round guernseys designed by senior player Matt Rankine (also marking the first time a Panthers player had designed a guernsey worn by the team), the Panthers were dominant across the board in a 65-point victory.
The home side controlled possession with a 70% kicking efficiency and won the clearance and inside 50 battles by nine and 13 respectively. Most importantly in the game they held the Roosters to no goals in the second half of the game, their defensive pressure just too much for North to handle.
Check out the game highlights here
Nick Liddle and Emmanuel Irra were influential figures in the game and helped secure the Panthers the win. Although the most impressive player on the day was the always impactful Joel Cross. Joel had himself quite a game, ending with 29 touches, eight marks, three goals and as a result three Magarey Medal votes.
See Joel's three-vote performance here
We hope to see yet another dominant performance from Cross and Co. this weekend.
Make sure you get out to Prospect to cheer the boys on in our penultimate game of the minor rounds!
Author:
South Adelaide Football Club