Four South Adelaide Champions inducted into SAFC Hall of Fame
Posted by Jonathon Parker on 8 October 2019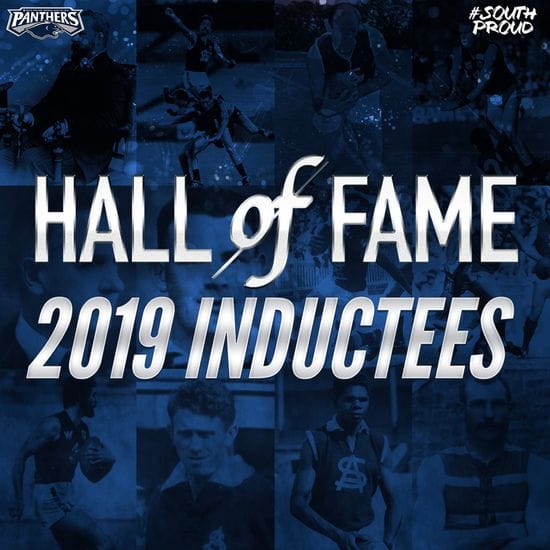 A quintuplet of past South Adelaide champions were inducted into the SAFC Hall of Fame on Saturday night.
At the 2019 Knuckey Cup, four past South Adelaide champions were rightfully inducted into the South Adelaide Football Club Hall of Fame.
In the first round of inductions since 2015, a former captain and the winner of the 1980 Knuckey Cup, Shane Butler was the first to be inducted on the night.
After a stellar career that spanned 12 seasons across 285 games that placed him second on the all-time list of the most games played behind Stuart Palmer, Butler was recognized for his contribution to the football club.
The North Gambier product who was a fierce competitor across the centreline or half forward flank, Butler arrived in 1977 were he would go on to play in four-night Premierships in 1978, 1979, 1984 and 1986.
He remains arguably one of the best footballers in South Australia to never be selected to represent his state.
Ron Hateley is inducted into the South Adelaide Hall of Fame. Image: Nick Hook Photography
The final inductee into the South Adelaide Hall of Fame was another former captain in John Schneebichler.
Schneebichler encapsulated football in the 80s, with a lace-up jumper, tight shorts and of course a glorious mustache.
He was workmanlike and a thoroughly dependable league footballer who enjoyed a successful 13-season career with the Panthers, where he rose through the ranks before making his senior debut in 1975.
After making his debut, and playing in the 1979 Grand Final Schneebichler went on to represent South Australia on two occasions in 1983 & 1984
For his final three years at South Adelaide, Schneebichler was named captain before moving to Glenelg in his last season of League football in 1988.
The South Adelaide Football Club would like to congratulate Shane, Alf, Ron and John on their deserved induction into the South Adelaide Hall of Fame.