In a league of its own: Celebrating 140 years of SANFL
Posted by South Adelaide Football Club on 7 June 2017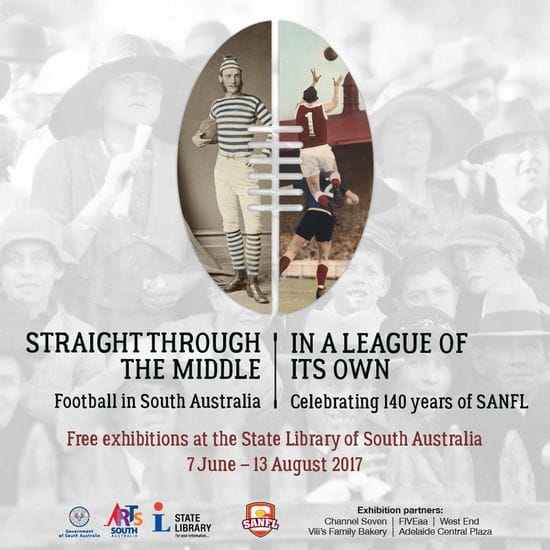 In a league of its own: Celebrating 140 years of SANFL
7 June to 13 August 2017
Institute Building
10am to 5pm daily
Free entry | Closed public holidays
Celebrate 140 years of the South Australian National Football League (SANFL) in an exciting exhibition about South Australia's much-loved game.
Discover how football has evolved over the years through rare memorabilia, including trophies, scrapbooks of players, and photographs of the teams, spectators, Football Park and Adelaide Oval.
For the first time see a stunning display of 50 Magarey Medals which are unique in their design.
Relive some of the great moments in footy as you watch archival footage of SANFL matches, including grand finals. Listen to recorded 'Footy Conversations' and hear some of the South Australian legends of the game.
The exhibition also provides an insight into social change in South Australia. See how the spectators of yesteryear, mainly males formally dressed in their hats, differ from the spectators of today.
Don't miss this rare opportunity to see unique memorabilia from the SANFL History Centre that is not normally accessible to the public.
Straight through the middle: Football in South Australia
7 June to 13 August 2017
Treasures Wall
Open during Library hours
Free entry | Closed public holidays
From the Far West to the South East, football has been an integral part of South Australian life.
Discover items from the State Library's collections that reflect all facets of the game in South Australia as this exhibition takes you from country to suburban footy, and from SANFL to AFL.
See the scrapbooks of Ken Farmer 'The Bradman of Goal kickers', memorabilia, banners, children's games and toys, and much more.
The first bounce is on June 7th and the final siren sounds on August 13th.
Author:
South Adelaide Football Club