Irra Brothers talk Multicultural Round
1 June 2018
For Emmanuel Irra, the SANFL's Multicultural Month is an opportunity to recognise the opportunities football and Australia has given him since his arrival in this country.
Irra migrated to Australia with his family in 2005 to escape civil unrest in Uganda and had never heard of Aussie rules football.
Now 24, the Port Adelaide defender realises the game helped him settle into his new surrounds.
"We all went to pretty good schools where they embraced different cultures," Irra said
"Most of the kids had never really interacted with people from where we came from, like I was the first African kid at Sacred Heart College for a lot of years and the school really embraced it and it was a really enjoyable time."
Irra excelled as a teenager and played league football for South Adelaide, before becoming the first Ugandan on an AFL list when he was rookie listed by Port Adelaide in 2016.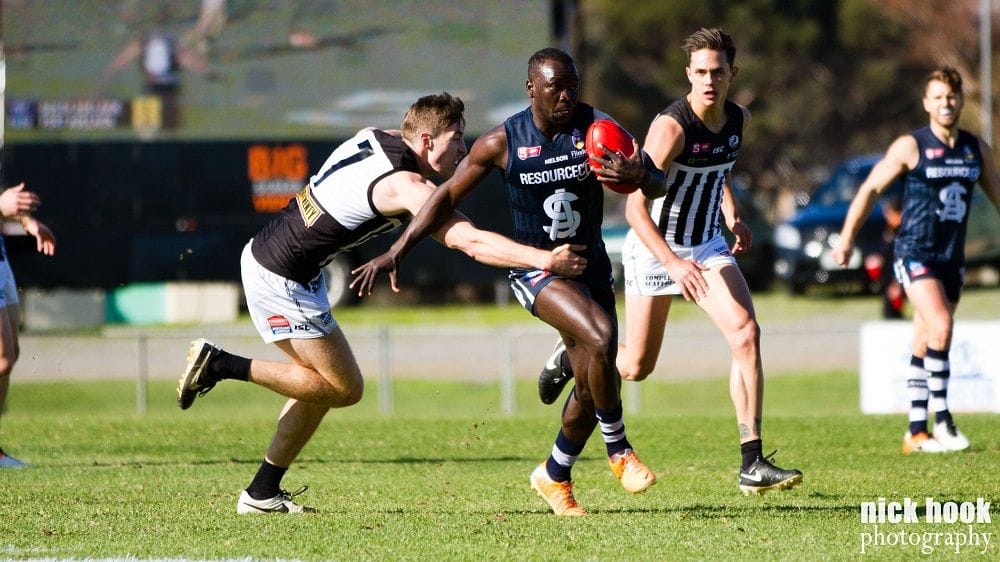 E-Man the Panther: Emmanuel Irra shows off his pace and power during his past life as a South Adelaide player before being rookie listed by Port Adelaide. Image: Nick Hook Photography.
It is perhaps fitting that powerfully-built Irra will match up against his former side when the Magpies meet the Panthers on Sunday at Hickinbotham Oval in a game celebrating the SANFL's Multicultural Month.
Throughout the month of June, all goal umpires will be waving orange flags because orange is the globally recognised colour of harmony.
At Noarlunga on Sunday there will also be a citizenship ceremony before the game welcoming up to 300 new Australian citizens, family and friends to the Southern suburbs.
"A lot of players in the game come from different cultures and it is important to understand the differences in where everyone comes from," Irra said.
"On field it doesn't really matter though that's the best thing about what we do out there everyone is just trying to chase the red ball and it's just a fun and enjoyable game for everyone.
"That's what I love most about it."
There is added incentive for Irra to win, with his younger brother Robert, 18, now on the senior list at the Panthers.
The younger of the Irra brothers has little memory of his time in Uganda but will proudly celebrate his heritage during the SANFL's Multicultural Month.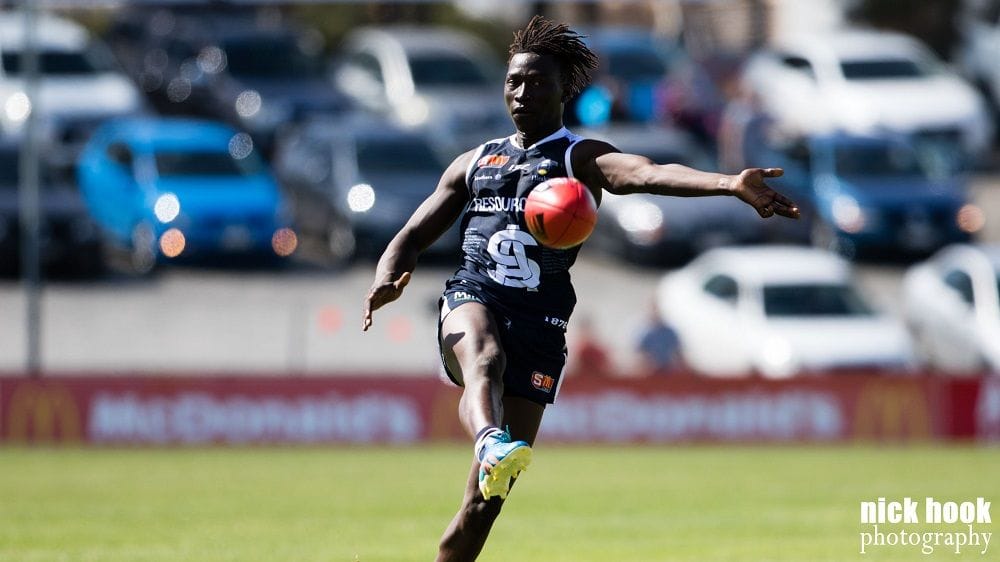 Making his own mark: Robert Irra gets a kick away during his SANFL League debut for the Panthers against Glenelg on Good Friday 2018. Image: Nick Hook Photography.
"I think multicultural round is a beautiful round because it's a day for everyone," Robert said.
"Mum used to tell me some stories (about Uganda) but I don't remember anything like Emmanuel and my older sister.
"Going to kindy and stuff I knew I was different but as a kid it isn't as hard as when you grow up.
"In working life and schooling life you have different challenges.
"The good thing now is that little kids look up to me as a young player playing senior footy and it's nice to think people look up to me as a multicultural role model."
Written by Loukas Founten