JLT Community Series Parking, Tickets, Seating and Public Transport Information
Posted by South Adelaide Football Club on 3 March 2017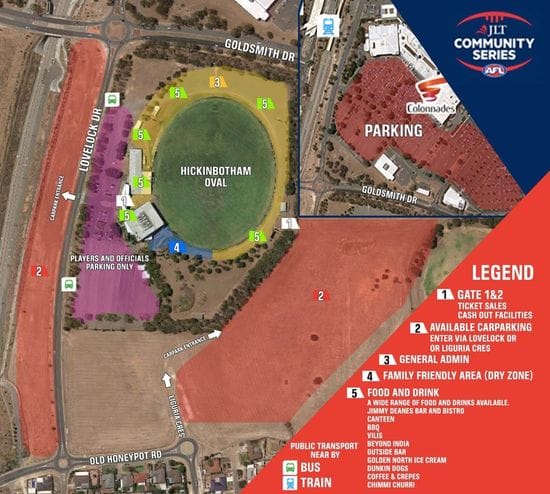 Hickinbotham Oval will pay host to two JLT Community Series games over the March 11-12 weekend. See all the information about attending the game you need to know below.
Free parking will be available around Hickinbotham Oval for each JLT Community Series match next weekend - along the opposite side of Lovelock Drive, behind the grounds via Old Honey Pot Road and Liguria Crescent and also in the Colonnades Shopping Centre Car Park.
Tickets will be available from the gate, but via cash only. We suggest to come prepared to avoid lining up twice, but will be offering cash out facilities at each gate.
There is limited seating available around Hickinbotham Oval. However, patrons are permitted to bring their own
There are two bus stops on Lovelock Drive and a train station further up the road across from Colonnades Shopping Centre. Each are just a short walk from the Oval.
Match Times and Tickets
Adelaide Crows vs Brisbane Lions
Saturday 11 March
Hickinbotham Oval, Noarlunga Downs, 3:40pm
Gates open 1:30pm, ticket sales from 11:30am
Click here to purchase tickets
Port Adelaide Power vs Hawthorn Hawks
Sunday 12 March
Hickinbotham Oval, Noarlunga Downs, 12:40pm
Gates open 10:30am, ticket sales from 9:00am
Click here to purchase tickets
AFL Club members with match entitlements will have free entry to the 2017 JLT Community Series matches in which their Club is competing. Members can scan their membership card for free entry into their matches (subject to capacity) or upgrade their membership to a reserved seat or register for a ticket in order to guarantee their entry (subject to availability, upgrade fees may be applicable).
South Adelaide Football Club Memberships do not gain access to either match.
Author:
South Adelaide Football Club