July Macca's School Holiday Clinics
Posted by South Adelaide Football Club on 24 June 2016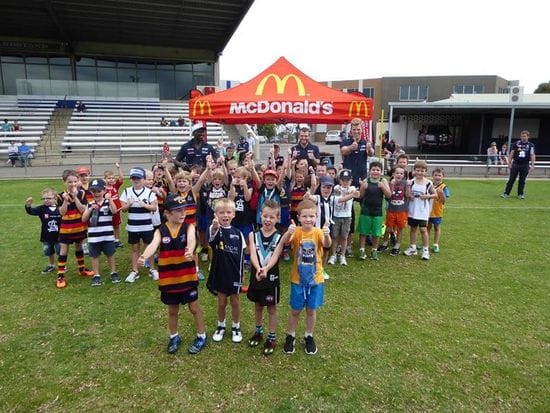 July School Holiday Clinics
Develop your footy skills with the help of South Adelaide players, enjoy skill drills, a mini game, BBQ lunch and kick and catch with the players!
This July school holidays, South Adelaide are taking their Macca's Holiday Clinics to our country zone. The best part about football is that anyone can give it a go, so the club is holding their clinics at the Encounter Bay Oval to give all young Panthers supporters in our zone a chance to learn from the best!
Macca's School Holiday Clinics are open to all Panthers supporters between the ages of 5-12. Register your interest today!
Where:
Encounter Bay Oval, Armstrong Road, Victor Harbor
Date:
Thursday 14 July
Times:
11.00am-12.30pm: Clinic 1 (5-8 year olds)
12.30pm-1.30pm: BBQ Lunch, kick and catch on the oval
1.30pm-3.00pm: Clinic 2 (9-12 year olds)
Cost*:
$25 per child, per session
Tickets can be purchased from the club on 8186 8200 or online by clicking here
*SAFC Junior Members may redeem their Junior Clinics Voucher (if they have not done so already at the April clinics) to attend a session for free
Register:
Click here to download our Clinic Registration Form
Author:
South Adelaide Football Club