Junior Girls Match Report: Panthers get over the Bloods
Posted by Jayden Bartlett on 28 August 2019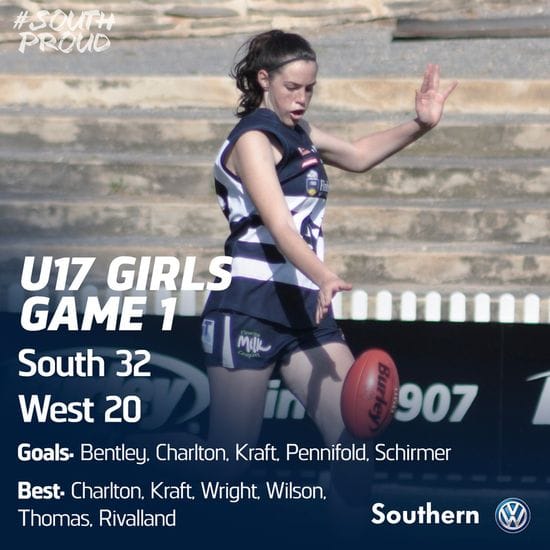 South Adelaide vs West Adelaide
Game 1 - Aldi Arena - 27/08/19
| | | | | | |
| --- | --- | --- | --- | --- | --- |
| South Adelaide | 0.0 | 3.0 | 3.0 | 5.2 | 32 |
| West Adelaide | 2.1 | 3.2 | 3.2 | 3.2 | 20 |

Goals: Bentley, Charlton, Kraft, Pennifold, Schirmer
Best: Charlton, Kraft, Wright, Wilson, Thomas, Rivalland
Injuries: Nil
The South Adelaide U17 girls kicked off their 2019 campaign with a hard-fought two-goal win against West Adelaide at Thebarton Oval on Tuesday night.
The Panthers managed to hold the Bloods scoreless for the second half to set up the 3.2 (20) to 5.2 (32) victory.
The reigning premiers struggled in the opening term; as they were held goalless for the first quarter while West Adelaide booted two goals of their own.
"I thought we took a while to work ourselves into the game, but after quarter time, we improved our work rate and tightened up on the defensive side of things" said U17s Coach Ryan Skouborg.
"Really happy with how the girls responded and got the game on our terms after quarter time. Some great link up work by hand in tight and pressure on the ball carrier" he said.
It wasn't until Georgia Pennifold kicked truly after just a minute into the second term that the Panthers had their first major of the match.
Only five minutes later, 2019 league premiership player Teah Charlton showed her class with a perfectly struck goal on the run.
Then in the dying stages of the quarter; fellow 2019 league premiership player Brooklyn Kraft, showcased her strength and fancy footwork to dodge a few opponents before kicking truly from the pocket to get one of the goals of the night.
Heading into the main break; the Panthers had improved but were still trailing with a 3.0 (18) to 3.2 (20) deficit.
Coming out after the main break and with only two points separating the two teams; the third quarter saw some of the toughest and most pressure-based play of the day.
With both teams refusing to give an inch and displaying relentless tackling; both teams went scoreless for the third term.
In fact, the only major highlights of the third term came in the form of a Dusty inspired fend off by Teliya Hetaraka and an end to end play which would have resulted in a goal, if it wasn't for the time running out.
With 15 minutes left to decide the winner; Gypsy Schirmer took a few opponents on before kicking truly on the run to strike first for the Panthers and take the lead.
West Adelaide came close to scoring several times; however, credit goes to South Adelaide's backline for not only preventing the Bloods from doing so, but also allowing the Panthers signature rebound from defence.
After several tense minutes and close calls; Meg Bentley took a strong contested mark before drilling the goal to put the Panthers lead up to double digits.
With only four minutes left; the goal all but ensured South Adelaide's victory but the Panthers didn't take any chances and refused to take their foot off the pedal.
Players such as Emogen Johnson, TahlitaBuethke and Neriah Mills continued to get into the thick of the action right up until the final siren.
The Under-17 Girls take on the Redlegs next Tuesday night (September 3) kicking off at 6:45pm at Aldi Arena (Thebarton)
Power Division - Under 17 Ladder
| | | | | | | | |
| --- | --- | --- | --- | --- | --- | --- | --- |
| Team | Played | Won | Lost | For | Against | Points | Percentage |
| South Adelaide | 1 | 1 | 0 | 32 | 20 | 2 | 61.54 |
| Woodville-West Torrens | 1 | 1 | 0 | 27 | 26 | 2 | 50.95 |
| Norwood | 1 | 0 | 1 | 26 | 27 | 0 | 49.05 |
| West Adelaide | 1 | 0 | 1 | 20 | 32 | 0 | 38.56 |