Key quartet commit for 2019!
Posted by Matt Sampson on 26 October 2018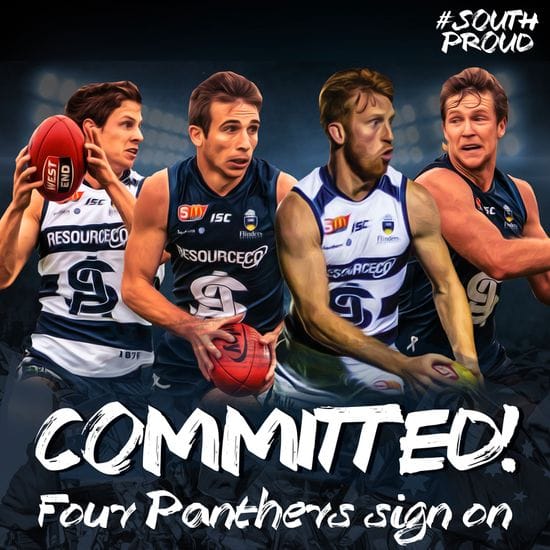 South Adelaide has secured the signatures of four key senior players for the 2019 SANFL season.
The club is pleased to announce Knuckey Cup winners Nick Liddle and Joel Cross, as well as respected leader Matt Rose and key forward Sam Overall have all put pen to paper to play on in Noarlunga next season.
The Panthers retain the services of the dynamic duo of Liddle and Cross, who have been stars of the SANFL for the best part of a decade, taking home eight of the last nine Knuckey Cups between them.
Meanwhile, Rose and Overall will look to put an injury plagued 2018 behind them and bounce back to their influential best in 2019.
"We are obviously very pleased to have all four of these guys committing to play next season," said Panthers Chief Executive Officer, Neill Sharpe.
"Nick and Joel have been outstanding loyal servants to our club over the journey. Their list of accolades puts them amongst the modern greats of the SANFL.
"Matt is a well-respected leader at the club and has been an great driver of culture and standards since crossing over from Port.
"We look forward to seeing him back fit and fighting next season, similarly with Sam, who is an extremely important forward line target and an emerging leader in our playing group."
Liddle joined joined South Adelaide from Coburg in 2010 and quickly established himself as one of the Panthers most admired players for his skill and commitment on the field.
With 175 SANFL games under his belt, he is now a five-time Knuckey Cup winner and also boasts seven Advertiser Team of the Year selections, three State Team appearances and an R.O Shearman Medal amidst his many achievements.
Cross came to the Panthers the following season and has now notched 156 games in Noarlunga.
He has since put together an impressive resume of accolades, including three Knuckey Cups, two Magarey and R.O Shearman Medals, four State Team selections and six in the Advertiser Team of the Year.
Rose journeyed south from Alberton in 2014 following the announcement of the Magpies as Port Adelaide's AFL reserve side.
He quickly found himself at home in Noarlunga and has now banked 85 games and two top three Knuckey Cup finishes with the Panthers.
His 2018 got off to a bright start, earning selection in the SANFL State Team that faced the WAFL in May, but was struck down by a broken collarbone soon after and only managed 11 games for the season.
Overall, burst onto the scene during South's 2014 finals campaign and at his high-flying and strong-marking best is one of the SANFL's most damaging forwards.
He enjoyed a fast start to 2018, including selection to the initial State Squad, but broke his foot in round six and could only manage two more games for the year.
South Adelaide welcomes back all four men and eagerly awaits seeing them back in blue and white in 2019!
Nick Liddle
Playing Record
2010 - Present
175 games
89 goals
Accolades
Knuckey Cup winner - 2010, 2012, 2013, 2017 & 2018
Magarey Medal runner-Up - 2011
R.O Shearman Medallist - 2018
Advertiser Team of the Year - 2010, 2011, 2012, 2013, 2014, 2017 & 2018
SANFL State Team - 2012, 2013 & 2014
Players Award - 2010, 2011, 2012 & 2018
Cibo Espresso Colonnades Fans MVP - 2017
South Adelaide Football Club Life Member - 2017
Joel Cross
Playing Record
2011 - present
156 games
113 goals
Accolades
138 games for South Adelaide
Magarey Medallist - 2012 & 2015
Knuckey Cup winner - 2011, 2015 & 2016
Mark Rawlins Trophy (Runner up B&F) - 2012, 2013, 2014 & 2017
R.O. Shearman Medallist - 2015 & 2017
SANFL State Team selection - 2013, 2014, 2015 & 2016
SANFL Advertiser Team of the Year selection (2011, 2012, 2014, 2015, 2017 & 2018
SANFL Advertiser Player of the Year - 2011 & 2012
Matt Rose
Playing Record
2010 - present
135 games (85 South Adelaide)
42 goals
Accolades
Mark Rawlins Trophy (Runner up B&F) - 2015
Best in Finals - 2016
SANFL State Team selections - 2018
Sam Overall
Playing Record
2014 - present
49 games
70 goals