Lumin Sports Match Report: Reserves Round 10 vs North Adelaide
15 June 2022
South Adelaide vs North Adelaide
Round 10 - Flinders University Stadium - 13/06/2022
| | | | | | |
| --- | --- | --- | --- | --- | --- |
| South Adelaide | 2.1 | 4.4 | 5.4 | 6.5 | 41 |
| North Adelaide | 4.4 | 8.5 | 12.8 | 15.13 | 103 |
Goals: Flett 2, Collins, Cresswell, Gill, Shillabeer
Best: Dumesny, McGary
Tough day for the South Adelaide Reserves as they fell to North Adelaide by 62 points at Flinders University Stadium on Monday.
The undermanned Panther Reserves struggled to get things going during their Queen's Birthday clash. South – after matching it with the Roosters during the first term – quickly found themselves on the wrong end of a one-sided clash, 6.5 (41) to 15.13 (103).
Zac Dumesny led the way for the Panthers with 25 disposals and 11 marks. Aaron Douglass (10 marks, 6 tackles) was impressive in defence, while under-18 Koby Cockshell showed some promise with a team-high 9 tackles.
Charlie Duncan, a current Panther under-18, also showed glimpses of his potential during his Reserves debut.
Heading into the match with only 3 players that have experienced League football for South Adelaide: the Panthers' young and fresh Reserves side was quickly outmatched.
The side did however match it with the visitors during the opening term. Jake Cresswell, after fending off a wannabe tackler, hit up Brian Gill for the Panthers' first goal of the day. Then with seconds left before quarter-time, Jack Flett kicked his first major of the day.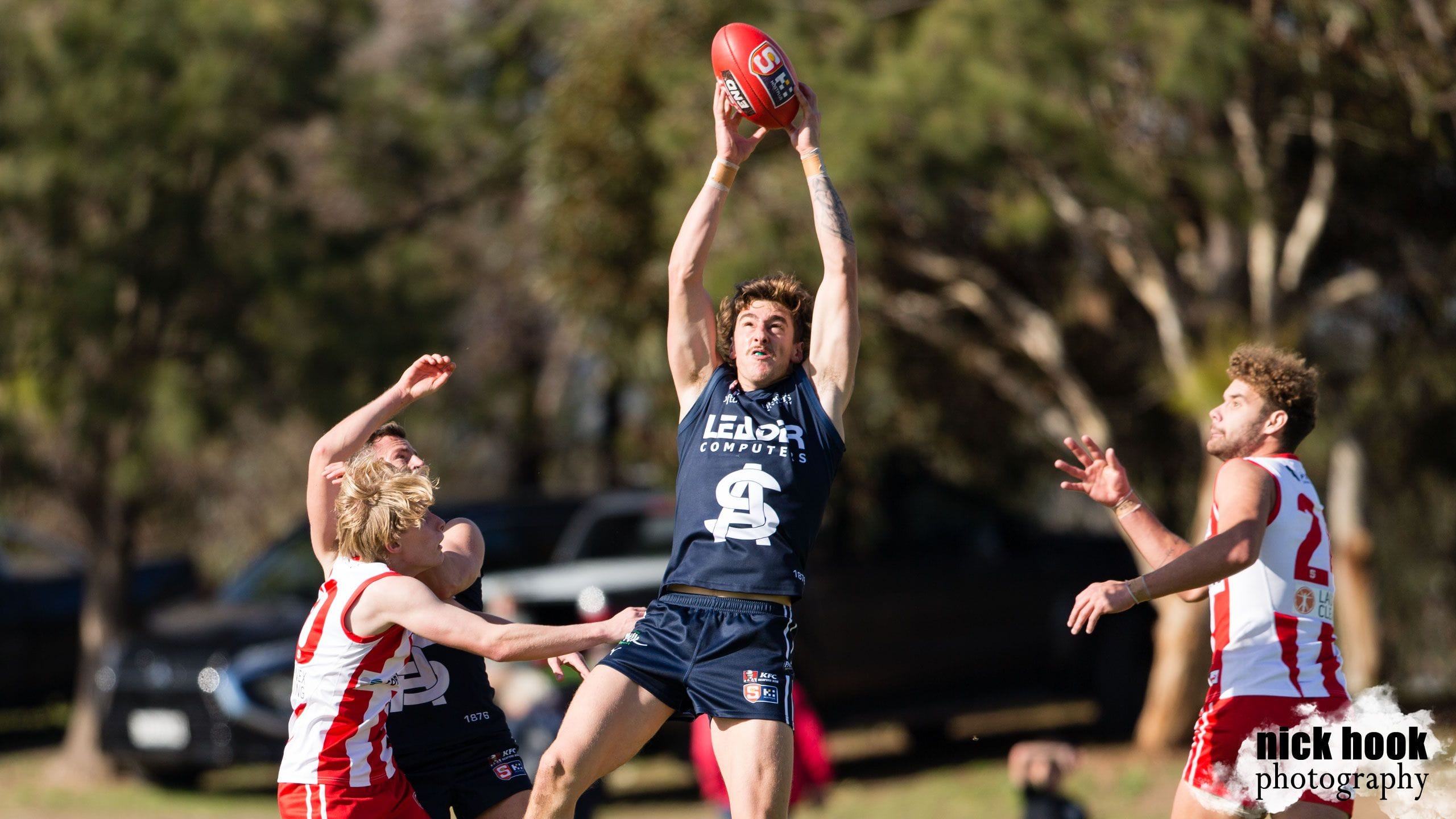 Aaron Douglass takes a strong mark in defence. Image Nick Hook Photography. Click here for the full Gallery.
Trailing 2.1 (13) to 4.4 (28) at the quarter-time break: the Panthers had plenty of work to do to wrestle control from the Roosters.
Minutes into the second term, Jacob Collins won the centre clearance and sent the ball deep into the Panthers' forward 50 – which eventually ended in a Ben Shillabeer goal. Collins would later crumb and score his first goal of the day.
But while all this was happening, South couldn't string together goals. The visitors on the other hand were and, by halftime, they had handed the Panthers a 25-point deficit, 4.4 (28) to 8.5 (53).
To make matters worse, the team had lost Sam Gaden and Oliver Megins, meaning the side was without a dedicated ruckman. After halftime, the Panthers would go on to kick just 2 more goals for the remainder of the match: with singles going to Flett and Cresswell.
The tough day for the reserves would end in a bitter 62-point defeat, 6.5 (41) to 15.13 (103).
The Panther Reserves – who will regroup over the bye – will be in action again on Saturday, 25 June, when they face Glenelg at Flinders University Stadium from 10:20am.