MRS Property Reserves Match Report Round 3: vs Eagles
Posted by Jayden Bartlett on 19 April 2021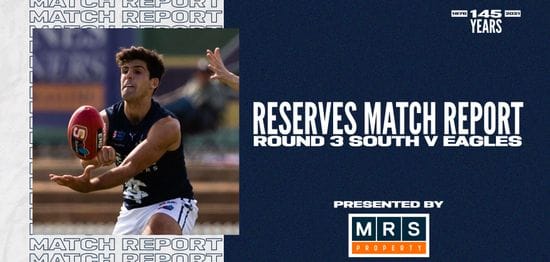 South Adelaide vs Eagles
Round 3 - Flinders University Stadium - 17/04/21
| | | | | | |
| --- | --- | --- | --- | --- | --- |
| South Adelaide | 0.1 | 3.2 | 6.3 | 8.4 | 52 |
| Eagles | 4.4 | 11.4 | 15.8 | 18.11 | 119 |
Goals: Flett 3, Spacie, Tucker 2, Kappler
Best: Kraemer, McKinnon
Saturday was a dismal day for the South Adelaide Reserves as they suffered a 67-point defeat at the hands of the reigning premiers at Maughan Thiem Kia Oval.
Despite having to pay to watch the Reserves match, the Panthers faithful didn't receive their moneys worth as the side struggled to find any momentum against a classy Eagles outfit, ultimately falling to a bitter 8.4 (52) to 18.11 (119) defeat.
Nicholas Kraemer was the Panthers best performer, finishing with 20 disposals, 9 clearances and 5 tackles. Fraser Turner also continued his strong start in the blue and white by collecting 24 touches.
It was the latest in a string of tough matches for the Panthers who, after facing the 2019 premiers and last year's runner-up during the first two rounds, now had to face off against the reigning premiers.
Within the first fifteen minutes there were worrying signs for South Adelaide, as the Panthers managed just four inside 50s compared to the Eagles ten, and were already trailing, 0.1 (1) to 3.1 (19).
Making his return from injury, Jake McCreery offered some pressure around football which was best shown with a chase-down tackle at half forward during the dying minutes of the opening term. But the Panthers still struggled to score their first major of the match.
South Adelaide would not score their first goal of the match until the seventh minute mark of the second term, when Harry Spacie showed some initiative by kicking the ball off the ground at close range.
However, as would be the theme for most of the match, the Panthers couldn't build any momentum after scoring, and each time the Eagles would clear the ball from the centre and within minutes respond with a goal of their own.
Jack Flett followed suit minutes later by kicking the ball off the deck to score the Panthers second goal of the game, but by this stage the side had conceded 30 inside 50s to 7.
With the Panthers eighth inside 50 of the match, Flett managed to take a strong mark and kick his second of the gamebut this was one of the only good moments from a Panthers perspective.
Ollie Megins, Darnell Tucker and Connor Sampson provided the Panthers with some options through the middle, yet each time the Panthers scored, the Eagles would respond with such ease.
The Eagles scored ten goals off of South Adelaide's turnovers alone, which put massive pressure on the backline which was spearheaded by Jack Elsworthy.
The final siren would send to signal the 8.4 (52) to 18.11 (119) defeat, the bottomless Panthers will look to bounce back against Sturt at Flinders University Stadium on Saturday, April 24, from 12:45pm.