MRS Property Reserves Match Report Round 9: vs West Adelaide
Posted by Jayden Bartlett on 7 June 2021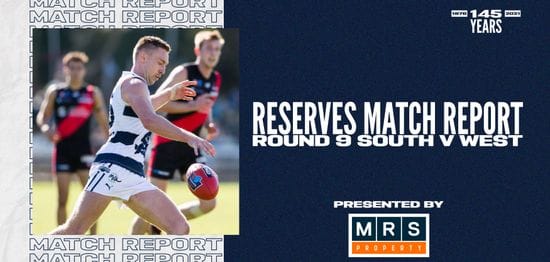 South Adelaide vs West Adelaide
Round 9 - Hisense Stadium - 06/06/21
| | | | | | |
| --- | --- | --- | --- | --- | --- |
| South Adelaide | 4.2 | 6.2 | 11.5 | 13.6 | 84 |
| West Adelaide | 2.3 | 9.4 | 12.5 | 16.10 | 106 |
Goals: Flett, Freitag, Kraemer, McCreery, McKinnon 2, Megins, Nye, Tucker
Best: McKinnon, Kraemer, Coleman, Juckers, McCreery
South Adelaide Reserves brought the fight to the Bloods but ultimately they fell just 22 points short at Hisense Stadium on Sunday.
A clash between the second to bottom side and the second to top side; the Panthers managed to punch above their weight but just fell short on closing the deal, 16.10 (106) to 13.6 (84).
Jesse McKinnon led the way for the Panthers with 28 disposals and 12 clearances while Nic Kraemer finished with 21 touches and 2 goals. U18s prospect Arlo Draper also finished his first Reserves match with 14 disposals and 3 tackles.
Heading into the match as the heavy underdogs, this fact did not faze the Panthers who jumped out of the box early and made the most of the wind advantage.
Darnell Tucker got things going with the first goal of the game after five minutes of play. Minutes later, the Panthers were able to rebound from defence and a massive kick through the centre by Liam Fitt was collected by Jack Flett, who played on and kicked the second goal of the day.
The home side was able to steady with two goals midway through the quarter. But a goal by McKinnon helped restart the Panthers momentum.
In the dying minutes before quarter time, Tucker was able to win a one on one at half forward which allowed the Panthers a decent look inside 50 which saw Ollie Megins get the handball assist to Liam Nye whose snap gave the Panthers a 4.2 (26) to 2.3 (15) lead at the first break
This lead proved to be short lived, with a missed push in the back call allowing the Bloods to kick the first of their four unanswered goals within an eight minute span; before Megins was able to slot a side-steadying goal.
This second term proved to be the difference as the Panthers were not able to gain another healthy buffer for the remainder of the match; with the exception of a one goal lead early during the final term.
The Panthers, who lost Fitt to injury during the second term, were not able to hold onto this slight lead. Despite some valiant defending by Aaron Douglass, the Bloods stormed home with the wind at their backs to snatch the win, 13.6 (84) to 16.10 (106).
While they fell just short of being the 'Giant Killers' for the second week in a row, the Panthers will look to bounce back when they face off against Norwood at Flinders University Stadium on Monday, 14 June, from 11:30am.