Nick Liddle takes out 2018 Knuckey Cup
Posted by South Adelaide Football Club on 13 October 2018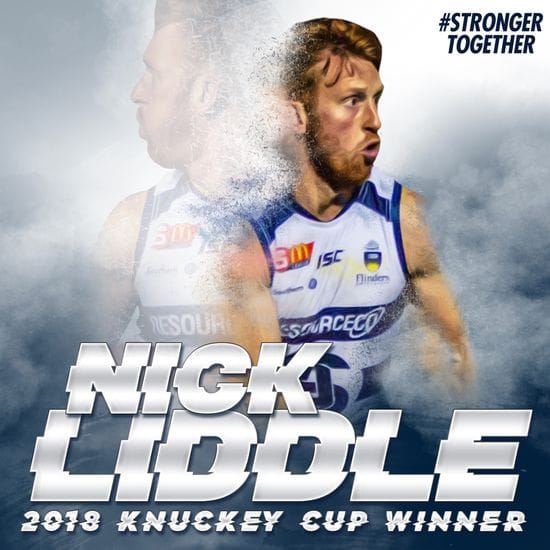 Evergreen Panthers midfielder Nick Liddle has taken out the 2018 Knuckey Cup at Saturday night's best and fairest count.
The flame haired Liddle chalked up 127 votes to finish five clear of ruckman Keegan Brooksby (122) and sophomore Panther Abe Davis (114).
It marks the fifth time Liddle has claimed the Panthers best and fairest, having also earned top honours in 2010, '12, '13 and '17.
It further solidifies his legacy amongst South Adelaide's greatest players, with only club legends Jim Deane (six - 1948, '49, '51, '53, '56 and '57) and Peter Darley (seven - 1963, '64, '66, '67, '68, '72 and '73) claiming more best and fairests during their careers.
The ball magnet from Coburg put together yet another stellar season in blue and white, averaging a team-high 25.8 touches per game and kicking 17 goals through his 19 games in 2018. His play was a key factor in seeing the Panthers return to finals action in 2018.
Earlier in the evening Kangaroo Island native Coby Helyar was awarded the J.L. Brown Trophy as the Reserves Best & Fairest, while Danny Juckers was rewarded for a consistent season to take out the Centre of Excellence Under-18s Best & Fairest.
See below for a full list of award winners and leader boards from all grades:
Senior Award Winners
Knuckey Cup (Best & Fairest)
Nick Liddle
Mark Rawlins Memorial Trophy (Runner-Up Best & Fairest)
Keegan Brooksby
Third Best & Fairest
Abe Davis
Milestone Chemicals Players' Player Award
Nick Liddle
Player Trademark Award (peer voted)
Jake Summerton
Flinders University League Most Improved Player
Joseph Haines
League Leading Goalkicker
Nathan Kreuger (22 goals)
Knuckles Award (Best Defender)
Jake Summerton
Dr Jim Harley/Frank Brown Memorial Trophy (Best Clubman)
Bradley Crabb
David Kantilla Memorial Trophy (Best First Year League Player)
Mark Noble
Junior Award Winners
Best & Fairest
Danny Juckers
Runner-Up Best & Fairest
Tate Lovering
Third Best & Fairest
Tyler Davies
Leading Goalkicker
Daniel Sladojevic (37 goals)
Flinders University Most Improved
Joel Beeche
Best Team Man
Tyler Davies
Colin & Peter Haines Trophy (Best Junior Clubman)
Sam Whitbread
Fred & Mavis Whitwell Trophy (U18 Rising Star)
Tom Sparrow
Knuckey Cup Leader Board
1. Nick Liddle - 127
2. Keegan Brooksby - 122
3. Abe Davis - 114
4. Joel Cross - 113
5. Joseph Haines - 111
6. Tom Fields - 105
7. Jake Summerton - 101
8. Alex Cailotto - 100
9. Ben Heaslip - 96
10. Tyson Brown - 92
Knuckey Cup voting: following each game, South Adelaide's senior coaches grade every player on a scale of 0-10 based on their performance during that game. The player who polls the most total votes throughout the season is declared the winner of the Knuckey Cup.
Reserves Leader Board
1. Coby Helyar - 92
2. Connor Fairlie - 86
2. Alex Moyle - 86
4. Scott Taylor - 81
5. Tarik Illingworth - 79
6. Cameron McGree - 77
7. Aiden Baker - 73
8. Jesse McKinnon - 72
9. Jackson Elmes - 70
10. Ben Millman - 66
Under-18 Leader Board
1. Danny Juckers - 57
2. Tate Lovering - 46
3. Tyler Davies - 45
4. Damon Freitag - 44
5. Luke Bogle - 42
6. Joel Beeche - 39
6. Aaron Douglass - 39
6. Jake Tarca - 39
9. Daniel Sladojevic - 38
10. Jonty Manuel - 37
Author:
South Adelaide Football Club