Nikki Gore breaks through as SANFLW rising star
Posted by South Adelaide Football Club on 3 May 2018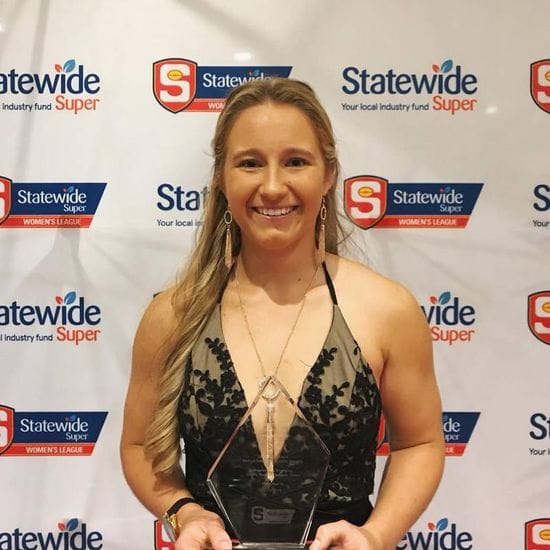 South Adelaide midfielder Nikki Gore has taken out the 2018 Powerade Breakthrough Player Award at Wednesday evening's Women's Best & Fairest awards night.
The Breakthrough Player Award is handed to the most brilliant player in the SANFL Statewide Super Women's League under the age of 21 each season.
Despite being just 17 years old, Christies Beach product Gore lead the competition in disposals per game, collecting 19.5 touches per outing though her eight minor round games and was a prime mover in South's engine room.
A brilliant user by both hand and foot, Gore was also a key contributor to the Panthers Grand Final triumph over Norwood, amassing 21 touches and laying eight tackles on her biggest stage.
Gore received her nomination for the Breakthrough Player Award for her 20-disposal performance in Round 4.
For her efforts, the AFL Academy member, who is hopeful of being picked up in this year's AFLW Draft, receives a $1,000 cash prize and trophy courtesy of Powerade.
Throughout the season, South's junior talent put on a fine display, with Hannah Munyard (Round 1) and Cheyenne Hammond (Round 9) also receiving Breakthrough Player nominations.
Watch the hightlights from Nikki's Breakthrough Player nomination game below
2018 Powerade Breakthrough Player Nominees
Round 1 Hannah Munyard (South)
Round 2 Katelyn Rosenzweig (North)
Round 3 Esther Boles (North)
Round 4 Nikki Gore (South)
Round 5 Rachelle Martin (West)
Round 6 Shae Gundlach (Sturt)
Round 7 Ashleigh Woodland (North)
Round 8 Hannah Martin (West)
Round 9 Cheyenne Hammond (South)
Round 10 Abbie Ballard (West)
Author:
South Adelaide Football Club