Reserves Match Report - Round 2 - South Adelaide vs Norwood
Posted by South Adelaide Football Club on 9 April 2018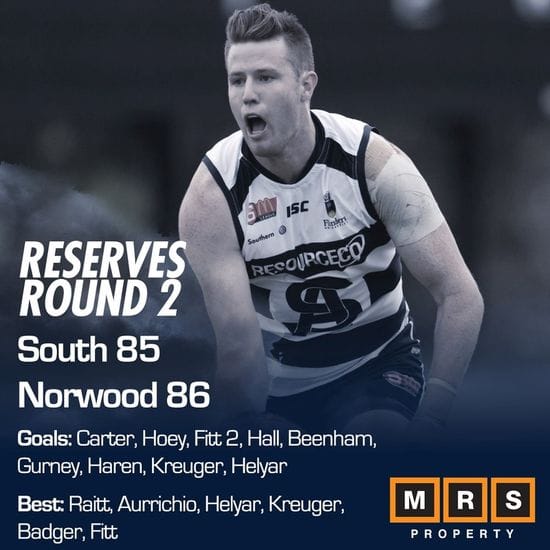 Reserves Match Report
South Adelaide vs Norwood
Round 2 - Coopers Stadium - 08/04/18
| | | | | | |
| --- | --- | --- | --- | --- | --- |
| South Adelaide | 3.4 | 6.5 | 10.5 | 13.7 | 85 |
| Norwood | 3.4 | 6.8 | 10.11 | 12.14 | 86 |

Goals: Carter, Hoey, Fitt 2, Hall, Beenham, Gurney, Haren, Kreuger, Helyar
Best: Raitt, Aurrichio, Helyar, Kreuger, Badger, Fitt
Injuries: Redigolo (concussion)
The Panthers Reserves fell to a heart-stopping loss in their Round 2 clash with Norwood.
In a game where neither side held a lead greater than 12 points, South were just unable to sneak their noses in front during the closing stages and ultimately succumbed to a 13.7 (85) to 12.14 (86) defeat.
The visitors pushed themselves to a two goal advantage in the fourth before the Redlegs worked their way back in front in the 19th minute.
The Panthers almost snatched the points in the dying moments as small forward Joseph Tyllis gathered and snapped from the pocket only for his shot to hit the woodwork.
South also had to play a man down after veteran defender Tarak Redigolo was forced to the sidelines during the second quarter after receiving a knock to the head.
South's on ball brigade performed well throughout the day, with big ruckman Alex Aurrichio (43 hit-outs and a goal) teaming well with Matt Raitt (game-high 29 touches and six clearances) and Coby Helyar (20 possessions, a goal and eight tackles) at the stoppages.
The big American also influenced the game with his presence around the ground, crashing packs and taking several contested marks.
However, the Redlegs were allowed off the chain too easily when South gave up the ball, with the hosts out-possessing the visitors 239-351.
South were mostly efficient with their ball use, generating just five less inside 50s (40-45) despite finding less of the ball, but again made skill errors that were punished on the scoreboard.
Panthers supporters can take positives out of the performances of young forwards Liam Fitt and Nathan Kreuger.
Fitt gathered 17 disposals and seven tackles on the game, but was most influential kicking two key goals to give South a two goal buffer midway through the final term.
Meanwhile, Kreuger again showed flashes of the athletic traits he possesses, starting the game forward and closing the second half in defence.
The game of young defender Robert Badger was also impressive, running with former Gold Coast Suns midfielder Josh Glenn for stages of the game.
Tall utlility Ben Haren also made a successful return to the field from an ankle injury, collecting 13 touches and a goal in his first game back.

Author:
South Adelaide Football Club