Reserves Match Report: Panthers finish the year on a high.
26 August 2019
South Adelaide vs Central District
Round 18 - Flinders University Stadium - 24/08/19
| | | | | | |
| --- | --- | --- | --- | --- | --- |
| South Adelaide | 3.0 | 5.0 | 11.2 | 16.4 | 100 |
| Central District | 3.3 | 7.7 | 9.7 | 9.10 | 64 |

Goals: Kennedy 4, McGree 3, Bogle, Emery, Beeche 2, Schwarz, Moffa, Illingworth
Best: McGree, Noble, Bogle, Kennedy, Loneragan, Schwarz
Injuries: Badger (Knee), Coleman (Ankle), Colwell (Knee)
The South Adelaide Reserves finish off their year in spectacular fashion; knocking off the Bulldogs by 36 points at Flinders University Stadium on Saturday.
It was another dominant second half display by the Panthers that saw them come out on top with a 16.4 (100) to 9.10 (64) victory.
Unfortunately, their fourth straight victory wasn't enough for the South Adelaide Reserves to make finals, as they missed out by just 3.5 per cent.
The game didn't begin exactly as planned; with the Panthers suffering two injuries early which took a toll on the side's rotations for the rest of the match.
However, it was Cam McGree who kicked the first goal of the match. He would go on to kick three goals in total and collect 29 hit outs and 14 disposals to be named the Best on Ground for the game.
Mid-way through the quarter, Brett Kennedy (15 disposals and six marks) kicked his first of many goals and Jesse Moffa (17 disposals and six marks) goaled late to send the Panthers into the first break with a narrow 3.0 (18) to 3.3 (21) deficit.
Joel Beeche (12 disposals and three tackles) would also open his account with his first coming after just three minutes of play.
Kennedy followed with his second goal of the game; however, Centrals had begun to take control, sending the Panthers into the main break facing a 5.0 (30) to 7.7 (49) deficit.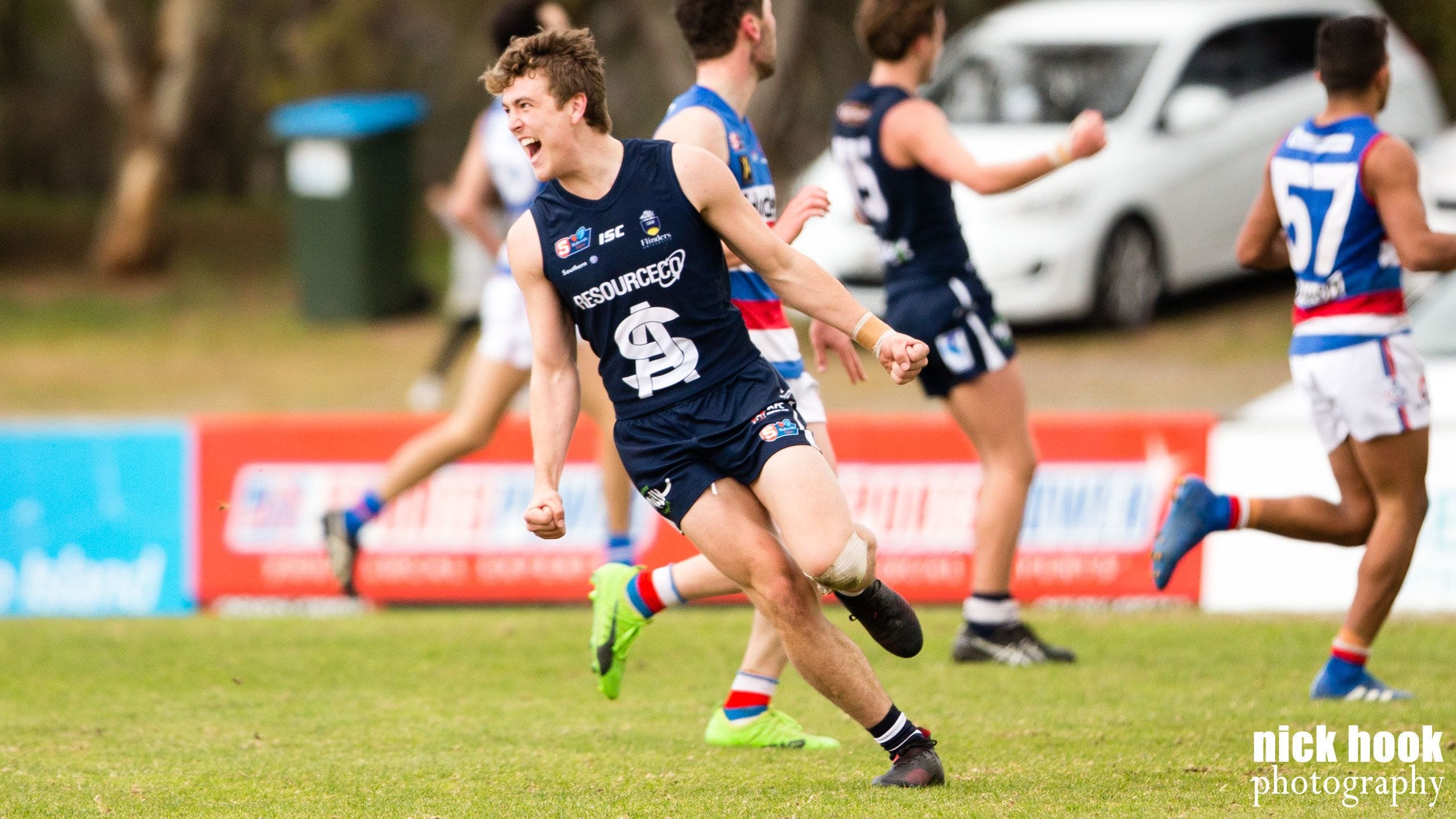 Brett Kennedy celebrates after kicking one of his four goals. Image: Nick Hook Photography.
Coming out after the main break; McGree kicked his second goal of the match before back to back goals by Luke Bogle (29 disposals, eight tackles and six clearances) saw the Panthers reflect the second half surge that has become a signature over the past four weeks.
Kennedy booted his third goal while Nic Schwarz (23 disposals and five marks) and Tarik Illingworth (13 disposals and five tackles) followed with their first of the game.
Mark Noble continued to be busy around the ground; finishing the match with 33 disposals, eight marks and seven clearances. Meanwhile, James Loneragan was strong down back; collecting 18 disposals and seven rebound 50s.
Kicking six third quarter goals to the visitors two; the Panthers went into the final break with seven-point lead and strong momentum.
The momentum continued in the final quarter as Beeche kicked his second, McGree kicked his third and Kennedy kicked his fourth goal of the match.
Kyle Emery (19 disposals and five tackles) also got on the board with two final quarter goals; one of which came from a tough angle and off a good assist by Kennedy.
With the Panthers holding the Bulldogs goalless in the final quarter; South Adelaide ran away with a six-goal victory in the final game of 2019.
Finals aside, the victory came against quality opposition in the form of the fourth placed Bulldogs, was a fitting way to end the 2019 season.