Rick Watts Named South Adelaide Senior Women's Coach
10 August 2018
South Adelaide is pleased to announce that Rick Watts has been appointed as the Panthers next senior women's coach.
Watts succeeds premiership coach Krissie Steen, who parted ways with South Adelaide in June to take up an opportunity with the AFLW program at GWS.
He brings to the role an extensive background of experience and success in women's football and will be familiar to the South Adelaide faithful having worked under Steen as an assistant coach in 2018.
"The Club is delighted that Rick has agreed to continue his involvement with our senior women's program and step into the role of Senior Women's Coach moving forward," said Panthers Chief Executive Officer, Neill Sharpe.
"Rick played an important role in the success of our women's program this season and we believe his experience and passion for women's football will help with the growth of the programs we have put in place in at South Adelaide.
"The Club believes Rick's existing relationships and experiences with the current playing group will also assist him in kick-starting a successful pre-season and have our team well prepared for the upcoming 2019 season and beyond."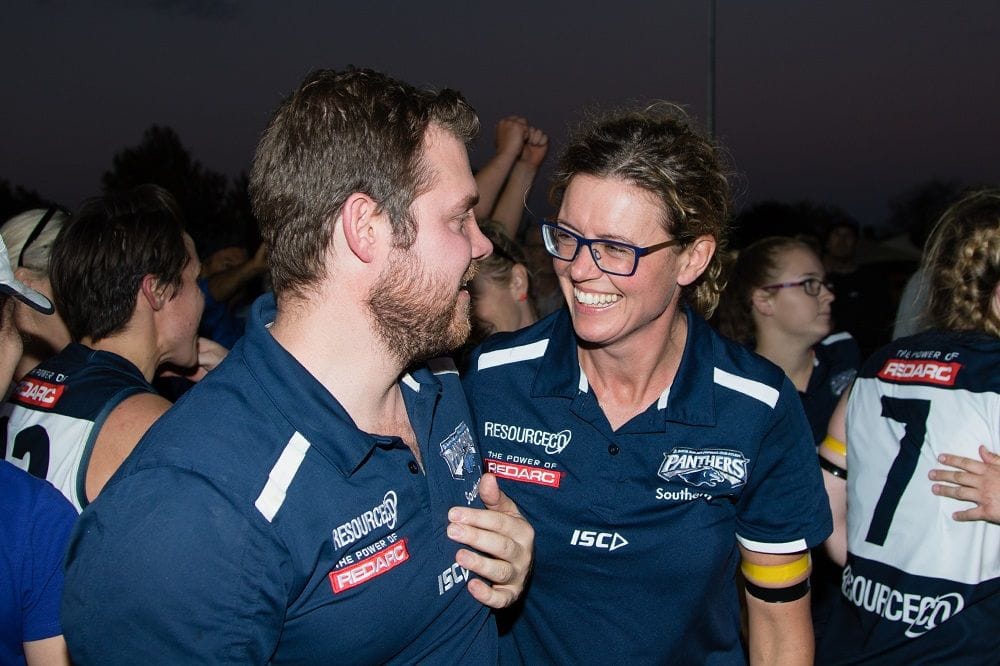 Watts a Year: New Panthers Senior Women's Coach, Rick Watts celebrates South's Grand Final win over Norwood with his predecessor, Krissie Steen. Image: Nick Hook - Insanity Multimedia.
Originally from Victoria, which included time as a player with Williamstown in the VFL, Watts began his coaching career with University High School-Victoria University Amateur Football Club (UHSVU) in 2009.
Moving to South Australia in 2013 he became familiar with the southern area through his involvement with the Christies Beach Football Club as a player and a coach.
Watts' involvement with women's football began with Morphettville Park in 2015, joining the Roos as an assistant coach in their 2015 SAWFL premiership season and stepping up to senior coach with the same result in 2016.
In 2017, Watts joined Steen's coaching panel for Adelaide University Football Club's SAWFL Division One premiership run and then continued as an assistant coach under Steen at South Adelaide in 2018.
"I'm extremely honoured and grateful to be given this opportunity at such an amazing club," said Mr Watts.
"I'm grateful to have worked with some amazing and inspirational mentors recently in Krissie Steen, Robbie Neill and Bill Economou who have been pivotal in my coaching development"
"Our playing group is an absolute pleasure to coach and I'm excited to continue to support and develop our local southern talent"
"Once we have finalised our playing list, our focus will turn to reviewing our game plan to ensure we are innovative and progressive"
With a senior coach now in place South Adelaide will begin to finalise its playing list ahead of the expansion of the competition to eight teams.
Rick Watts
Assistant Coach South Adelaide Women (Premiers 2018)
Assistant Coach Adelaide University Women (Premiers 2017)
Head Coach Morphettville Park Women (Premiers 2016)
Assistant Coach Morphettville Park Women (Premiers 2015)