Sammy D Stars - City to Bay 2019
Posted by Jonathon Parker on 17 August 2019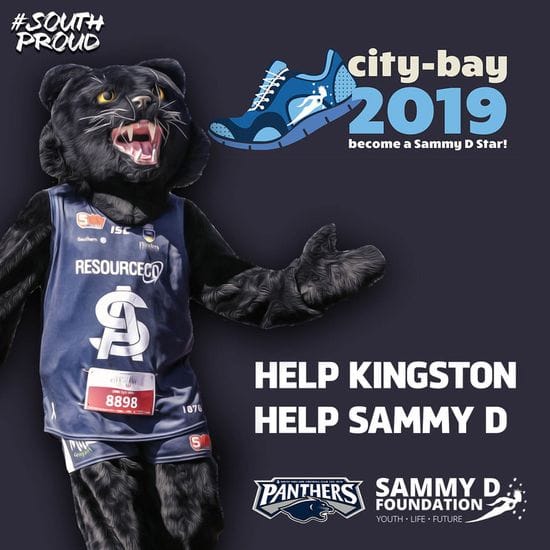 South Adelaide's Kingston will take part in the 2019 City to Bay to help raise funds to support the work of the Sammy D Foundation.
The South Adelaide Football Club is proud to announce that club mascot, Kingston the Panther will be taking part in the City to Bay to raise funds for club charity partner, The Sammy D Foundation.
In today's Under-18 match against the Roosters, the annual Sammy D Medal will be awarded to the player who displays the most Courage, Commitment, and Spirit throughout the game.
Past winners include Tom Sparrow, Bailey Snelling, and Tyler Davies to name a few.
In 2008, South Adelaide Under-18 player Sam Davis fell victim to a violent and unprovoked one-punch assault that cost him his life.
Sam's death is part of an alarming trend in our society around alcohol and drug-fuelled violence.
The Sammy D Foundation was founded with the ultimate aim of preventing such a tragedy from ever happening again.
The 2019 Sammy D Medal marks 10 years since it was first presented.
South Adelaide Mascot Kingston the Panther is taking part in the City to Bay fun run for the second straight year.
As part of Kingstons journey, he is raising money to help the Sammy D Foundation continue the outstanding work they do.
Help Support Kingston here!