South Adelaide Appoint First Female Chairman in SANFL
Posted by South Adelaide Football Club on 20 December 2017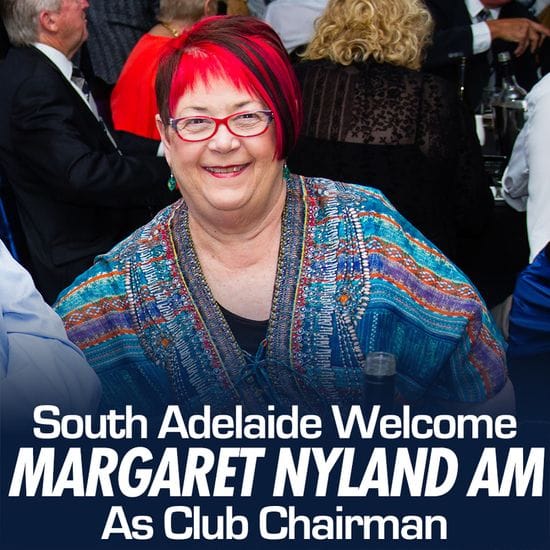 The Board of the South Adelaide Football Club is proud to announce the appointment of the first female chairman in SANFL's 140 year history, the Hon. Margaret Nyland AM.
Ms Nyland spent 48 years working in law in South Australia, including seven as a District Court judge and 19 years on the bench of the Supreme Court.
In 2005 she became a Member of the Order of Australia for services to the judiciary, human rights and the equal status of women.
Ms Nyland says she is proud to be serving the Board and community of the South Adelaide Football Club and hopes her appointment will continue to strengthen the club's ties with the vibrant southern region.
"I consider it a great privilege to be appointed as chair of the South Adelaide Football Club, the club I have supported all my life," says Ms Nyland.
"Growing up in the south east corner of the city, South Adelaide was an integral part of the community and the late great Jimmy Deane was my hero.
"I am also excited to be involved with the club as we embrace the inclusion of women's football and the opportunity this will provide young women in the southern area.
"Young people today face many challenges in their lives and I believe that SANFL and its clubs play an important role in the community by providing positive role models for young men and women and an environment with strong core values in which our youth can develop.
"I look forward to the year ahead and being part of the growth of all our players both on and off the field."
Ms Nyland succeeds Andrew Luckhurst-Smith, who announced his retirement this week from the Board after serving as Chairman since 2011.
Joining Mr Luckhurst-Smith in retirement is Deputy Chairman, Andrew McIntyre, who steps away after 10 years of service on the Board.
The Club wishes to thank them for their leadership and steadfast support over nearly two decades of combined service.
Ms Nyland was one of three women appointed to the vacant Board positions, with South Adelaide now boasting the highest female representation on the Board of a SANFL club.
Clare Harris and Nicole Kinnear were also appointed and with them bring a wealth of experience in commercial operations, sports administration and marketing and sponsorships.
Ms Harris is currently the CEO of Surf Life Saving SA and sits on the Premiers Taskforce for Women in Sport, while she also brings to the Panthers previous experience from her time as General Manager, Commercial Operations and Acting CEO at Netball SA and National Corporate Services Manager with David Jones in Sydney.
Ms Kinnear (who has been appointed as Marketing Director) is currently the Head of Marketing at Statewide Super and brings significant experience in sponsorship and brand management in the private, not for profit and local government sectors.
Author:
South Adelaide Football Club