South Adelaide officially unveil mural celebrating its champions
Posted by Jonathon Parker on 19 July 2019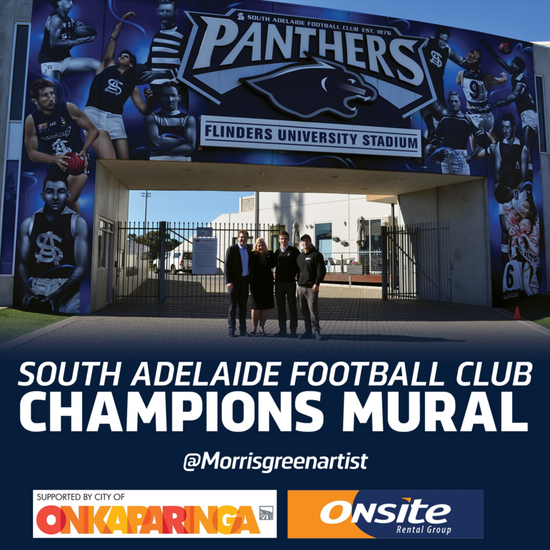 South Adelaide Football Club is pleased to officially unveil its "Champions" Mural celebrating past and present players.
The project, believed to be the first of its kind for a South Australian football club, has been undertaken by local Southern aerosol artist Morris Green.
South Adelaide Chair Margaret Nyland AM officially launched the mural explaining the great sense of pride the Club feels in its creation.
"Morris Green has done an outstanding job in bringing to life this project which provides an historical timeline of the Club's champions through its 143-year history.
"There can be little debate about the players that adorn it, but I'm sure there will be some about those that don't. We do have more space however!"
Ms Nyland also noted the special historical link the mural has with broader social issues.
"In South Australia we're celebrating 125 years of Women's suffrage, but what I think people don't quite know is that the Premier of the Government which introduced Women's suffrage was Charles Kingston, a former South Adelaide President," said Nyland.
'So I think it's pretty fitting that our mural outside commemorates not only the long time South Adelaide has been involved with football, but the entry of Women into the football competition.
The Champions mural became a possibility following receipt of a Public Improvement Grant from the City of Onkaparinga and the support of club sponsor Onsite Hire.
South Adelaide CEO Neill Sharpe acknowledged their support was critical in bringing the project to life.
"The City of Onkaparinga provided the impetus to undertake the project and Onsite Hire's support gave us the ability to make it a reality."
The artist given the task of bringing the mural to life was southern aerosol artist and tattooist Morris Green.
"It's defiantly one of a kind" said Green.
"It means a lot, because, one it's great exposure for me and great for the club as well, I think its going to have a massive impact."
In one of his largest works to date, Green said there was a few challenges of working on such a large project, one of which was working off old photos.
Iconic South Adelaide players included in the mural are Dan Moriarty (3 Magarey Medals, 1 Knuckey Cup), David Kantilla (1964 Premiership player, 2 Knuckey Cups), Jim Deane (2 Magarey Medals, 6 Knuckey Cups) and Peter Darley (1964 Premiership player, 7 Knuckey Cups).
More recent players include Dual Magarey Medalist Joel Cross and Dual premiership player, 5-time Knuckey Cup winner Nick Liddle and 2018 Women's Best and Fairest, Nikki Gore.
The mural is now on display at the South Adelaide Football Club and the members of the southern community are welcomed and encourage to drop in and see the result of Morris work.