South Adelaide Welcome Fleurieu Milk Company to the Team
Posted by South Adelaide Football Club on 30 November 2016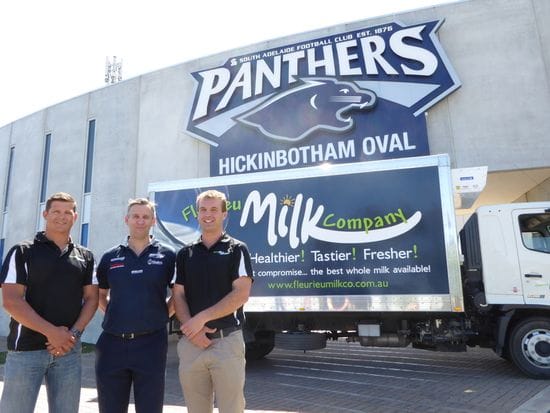 South Adelaide Football Club Chief Executive Officer, Neill Sharpe (centre) pictured with Fleurieu Milk Company Sales Manager, Clay Sampson (left) and General Manager, Nick Hutchinson (right) in front of a Fleurieu Milk Company delivery truck at Hickinbotham Oval.
The South Adelaide Football Club is excited to announce a new partnership with Fleurieu Milk Company, connecting the Club with one of the southern regions fastest growing businesses.
The partnership will see the Fleurieu Milk Company logo appear on the right thigh of South Adelaide Football Club's game-day shorts, as well as all dairy products used in South Adelaide's bistro, Jimmy Deane's, be supplied by Fleurieu Milk.
"In a time where it is becoming increasingly important to buy local and support home-grown products, South Adelaide are excited to be able to connect with such a prominent brand within our Zone," said South Adelaide Chief Executive Officer, Neill Sharpe.
"It is great to know that when people come to eat at our bistro that we can confidently say they are supporting South Australian produce through our use of Fleurieu Milk products.
"Fleurieu Milk's support will also help us to continue to grow our senior and junior football programs, which we see as a great win-win for the southern community."
Fleurieu Milk Company General Manager, Nick Hutchinson said supporting a fellow South Australian organisation was also important in their decision to partner with the Panthers.
"Fleurieu Milk are extremely excited to be partnering with the South Adelaide Football Club in what will no doubt be a long term relationship," said Mr Hutchinson.
"South Adelaide play a critical role in the southern suburbs community and want to enhance this even further going forward, which we love to hear.
"We are proud to link with likeminded organisations and know that together we can continue to play our role in growing and improving the Southern region.
"I look forward to sitting back and enjoying a Fleurieu Milk Iced Coffee whilst watching the Panthers kick away to another victory at Hickinbotham Oval in 2017."
Nestled in the foothills of the South Adelaide Zone at Myponga, Fleurieu Milk Company began in 2006 with a vision to make farming a sustainable profession for the next generation. Low farm gate prices from dairy processors caused three local farming families to come together, collaborating to produce their own differentiated brand targeted at a niche market within South Australia.
The emphasis of all Fleurieu Milk products is quality. They take pride in knowing their milk tastes exactly how milk should taste. They avoid adding any additives, thickeners and preservatives to their products, wanting them to remain as natural as possible.
Fleurieu Milk produce a range of dairy products including white milk, yoghurt and flavoured milks. The company has gone from strength to strength, now selling products to all regions of South Australia, as well as products going in to Western Australia, New South Wales and the Northern Territory. On top of this they recently began exporting to Singapore, Hong Kong and Malaysia and see these export markets as large opportunities in the coming years.
Whilst growth continues, the company wants to ensure a large emphasis remains on community involvement. Local community support is absolutely vital to our success and is undoubtedly what got them off the ground 10 years ago. They want this two-way relationship to continue as much as possible which is why Fleurieu Milk is quite proud to be partnering with the South Adelaide Football Club.
Author:
South Adelaide Football Club