From the CEO: South Proud in AFL draftees
30 November 2021
There was a lot for South Adelaide to be proud of with Jason Horne-Francis, Matt Roberts and Arlo Draper all finding their way on to AFL lists last week.
These three young men have all attacked their football over the last couple of years at South Adelaide with a fantastic mindset and genuine desire to improve.
It has certainly taken a lot of coordination and support to help them be their best.
There have been plenty of people along the way that have all assisted them on their journey to the AFL.
I'm sure you are all sharing in the excitement of these young men being able to live out their dreams.
All the boys' parents and families should be very proud in the significant role they have played in their son's football journeys. We are grateful that their support has enabled them to fulfil their talent.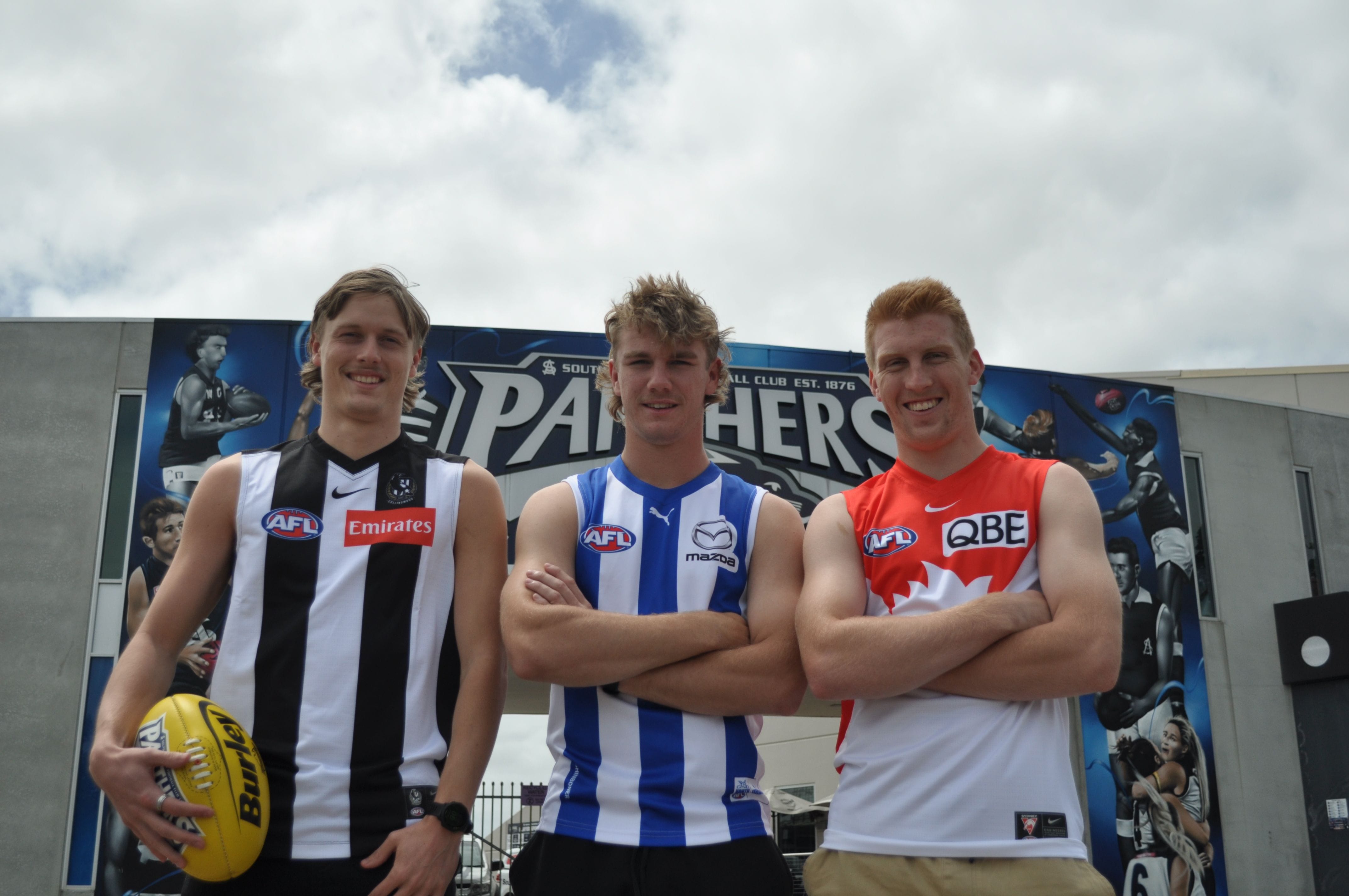 The part their junior clubs have played in their journey is critical. It wasn't that long ago that No.1 draft pick Jason Horne-Francis was playing for Christies Beach, Matt Roberts was representing Langhorne Creek at A-Grade level and Arlo Draper was kicking 100 goals for the Willunga junior colts. It illustrates how quickly you can go from watching your heroes to joining them in the AFL.
Thank you to all our Southern Zone Clubs and their volunteers for the effort they put in to putting football teams on the ground every weekend. While I know every Club playing against those boys previously may not have enjoyed it, this is the opportunity the game can provide young men and women.
The Great Southern Football League and Southern Football League Association teams and Academies also play a key role in developing these young footballers.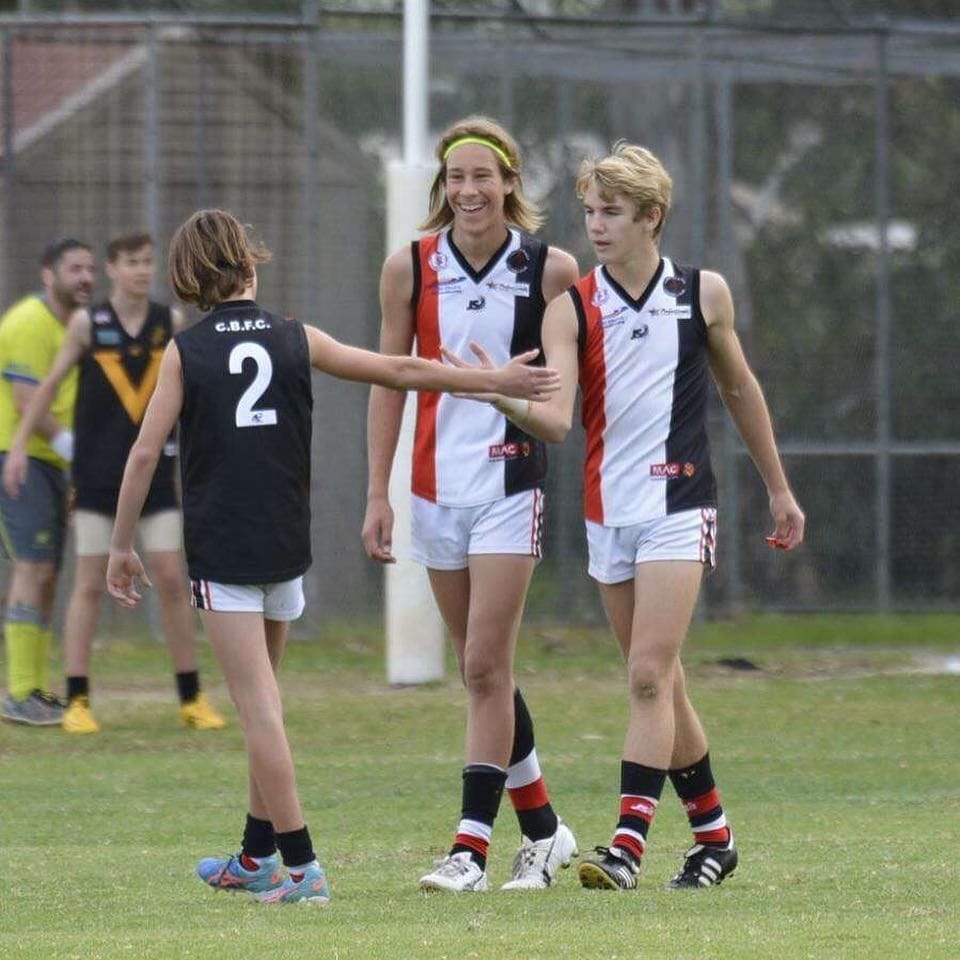 Number 1 pick of the 2021 AFL Draft, Jason Horne-Francis in action for Chrisities Beach Football Club in 2018. Image: via Instagram.
Key South Adelaide partners have played their part with Balfours providing Jason Horne-Francis with a scholarship to assist his football and Fleurieu Milk being a very understanding employer balancing his work and football commitments.
We are grateful for the understanding partner Cardijn College showed Arlo Draper in combining his football and schooling in 2020. It was also pleasing that South Adelaide and St Peters were able to maintain regular correspondence which enabled Matt Roberts to meet the needs of both his school and Club football.
Finally, thank you to all the South Adelaide football staff that have been a part of the boy's journey through our talent pathway. A terrific advantage for SANFL Clubs is that all three have risen through South's development programs to play League football. SANFL programs stand out as the best pathway for young footballers in the country and these boys have clearly embraced it and thrived.
At South Adelaide we are acknowledged as having one of the best junior programs in the State under Talent Manager Mark Clayton, with support from Magarey Medalist Bryce Gibbs. That all three played League football is also a credit to League coach Jarrad Wright.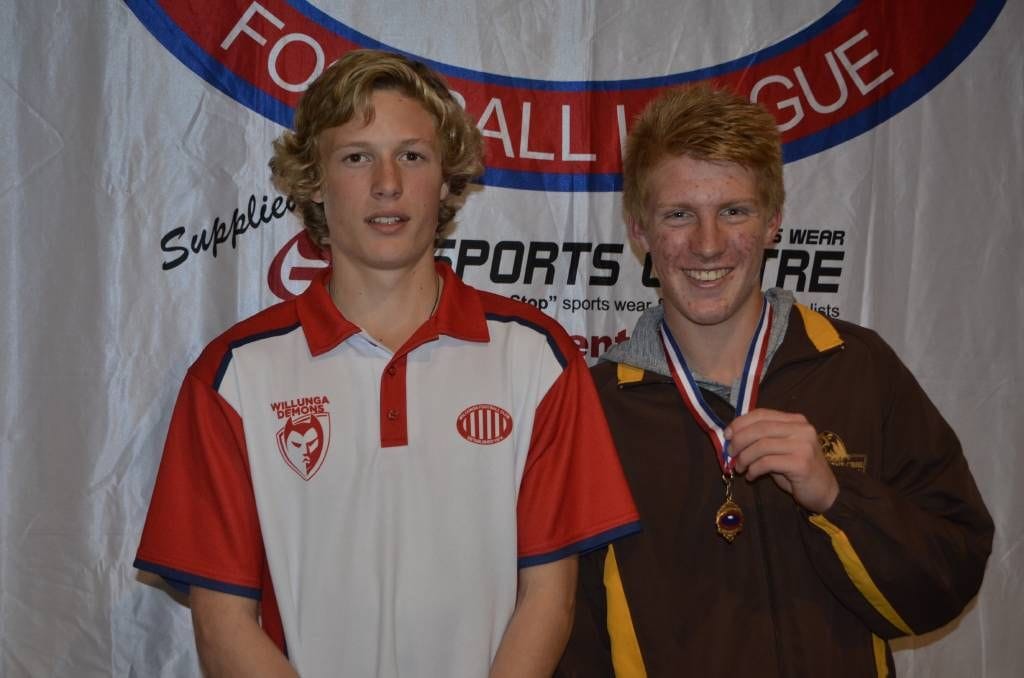 Arlo Draper (Willunga) after kicking 100 goals at junior colt level next to future team mate Matt Roberts (langhorne Creek) who took out the junior colts mail medal in 2017. Image Victor Harbor Times
We all will look forward to watching each boy's AFL journey as they now join a number of former Panthers in the AFL.
Again it wasn't long ago Tom Sparrow was a South U18 player and now he is a premiership player at Melbourne.
But we also look forward to the next crop of young footballers coming through the grades at South Adelaide.
There are certainly a few more to get excited about and it can happen very quickly.
Neill Sharpe
Chief Executive Officer