Southern District Spotlight
14 July 2021
Great weekend for South Adelaide's zone as the Southern Districts claims their first SA Men's Country Championship in six years while the women's side finishes third.
While the Panthers got the job done during all of their three clashes on the weekend, our zone was also busy playing in the 2021 Think! Road Safety SA Country Football Championships at Victor Harbor.
The Southern Districts, which is made up of players from the Kangaroo Island, Southern, and Great Southern Football Leagues, only suffered one defeat between their men's and women's sides.
The men's side kicked off their championship pursuit with an 8.9 (57) to 3.4 (22) win over Eastern, before then narrowly getting over the top of Murray South East, 4.7 (31) to 3.5 (23).
After winning both of their matches, the Southern District men then faced off against Central in the Grand Final, which ended in a decisive victory for the blue and white, 11.17 (83) to 6.4 (40).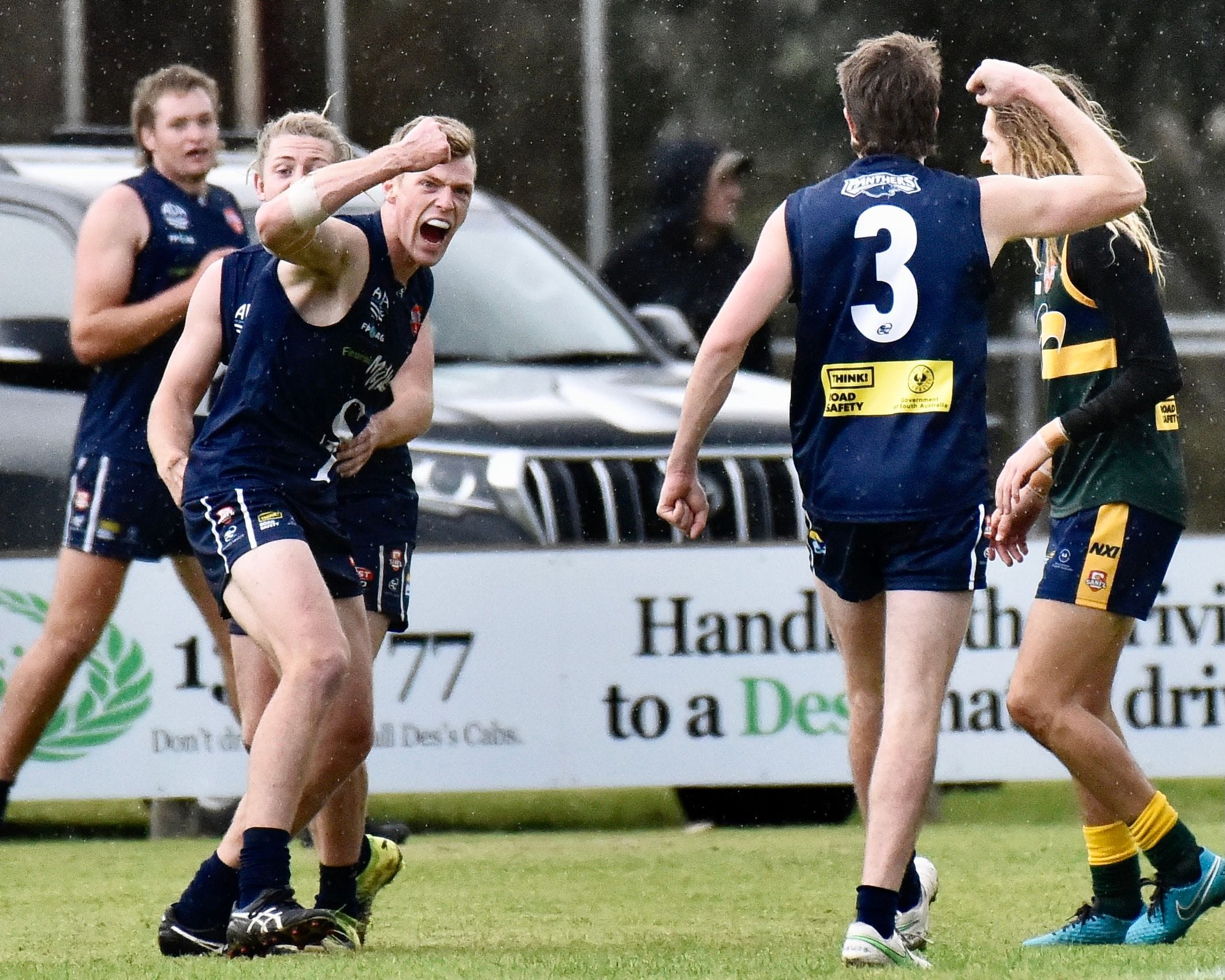 Southern Districts player Sam Tharaldsen celebrates a goal during the 2021 SA Country Football Championships men's grand final at Victor Harbor Oval. Image: SANFL
Having won the 2019 SA Country Championships in Port Pire, the women's side begun their title defence in a different fashion.
Facing off against Murray South East, the Southern District women's side registered 1.6 (12) compared to their opponents 2.3 (15); which in a two-match format, denied them the chance of defending their title.
However, the women's side bounced back spectacularly with a 10.5 (65) to 0.0 (0) win over Eastern.
Members of our 2021 SAFCW Squad, Georgia Pennifold, Layla Rogers, and Ella Besley, were named as the three best players during this clash, respectively.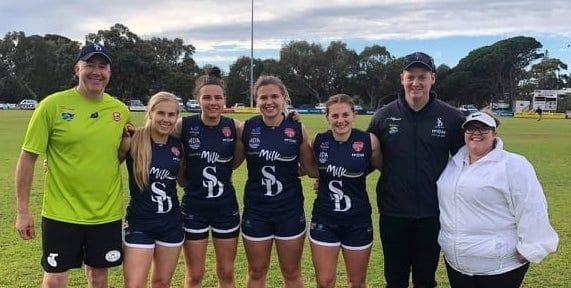 Southern Districts players Layla Rogers, Caitlin Ross, Sheena Peters and Katrina Munzberg along with Craig Roberts (runner), Dillon Bilney (Coach) and Amy DiFabio (Trainer). Image via McLaren Football Club Facebook
After finishing with a 1-1 record, the women then faced off against Western in the battle for the third spot.
Yankalilla-listed Panther, Leah Bailey, kicked two majors as the Southern District's went on to claim an 8.8 (56) to 1.2 (8) win.
Southern Districts' ruck, Rachel Searle, earned a spot in the Team of Championships, along with Panther players, Caitlin Ross, Georgia Pennifold, and Layla Rogers.
"It felt really good especially playing alongside not only my local girls but also alongside the South girls in the one team," Layla Rogers said.

"Definitely is overall a great weekend though, since experiencing it in Port Pirie in 2019 it's always a great experience just to have some fun and also make some new friends"

"Especially interacting with the players you play against as well, the Country Champs bring players who play against each other together as one."